January 2021 - Second Semester Back to School Message

Greetings North Shore Knights,
Welcome to the 2020 – 2021 school year!! We are looking forward to your family joining our journey toward 100% student success. We welcome back our returning families! Our second semester begins January 20, 2021 at 8:45 a.m. In order to keep our campus protected, we ask that parents drop off their students at the gates before 8:45 a.m. and allow staff to escort our Knights to their designated areas.
Staff will be at the gates at 8:15 a.m. to transition your child from that location to their home room. Your child may be dropped off in the car circle or at the walker's gate located by the cafeteria if you are a walker or bike rider.
The Car circle located on 1st Street will open at 8:15 a.m. Students will be able to go directly to the classroom or a designated area on campus. Social distancing protocols will be in place. Any student new to campus, will be escorted to their area.
The Walkers gate located near the cafeteria on 35th avenue will open at 8:15 a.m. Students will be able to go directly to the classroom or a designated area on campus. Staff will ensure that students maintain social distance. Any student new to campus, will be escorted to their area. The Walkers gate is for students who walk or bike to school. There is no legal parking available to drop off students at the walkers gate.
Grab and Go breakfast will be provided for all students who enter the gates before 8:45 a.m. Breakfast is free to all students.
We want to be sure you have all the information you need to make the transition back to school. We are looking forward to a great school year and have a lot of wonderful activities and learning experiences planned for your child. The teachers are working hard in their classrooms preparing for our Knights. Here is some information for you to keep in mind as you prepare for the upcoming school year.
If your child will need to have prescriptions or over the counter (OTC) medication during school hours, it is important for you to contact the school nurse. Both prescription and OTC medications require additional paperwork to be completed by the parent and/or doctor. Prescription medication may ONLY be brought in by the parent and must be in the original prescription bottle. Our nurse, Mrs. Markman, can be reached at markmanj@pcsb.org.
Our school hours are from 8:45 a.m. - 2:55 p.m. Students are not permitted on campus until 8:15 a.m. unless they are registered in the YMCA before care program. The first bell rings at 8:30 a.m. permitting students into the classroom. Students will be marked as tardy if they are not in their classroom or signed in online by 8:45 a.m.
All students are eligible to participate in the Universal Free Breakfast program. If you wish your child to participate, breakfast will be served from 8:15 a.m. – 8:45 a.m. each morning in the cafeteria. Breakfast this year will be Grab and Go.
Please keep in mind that we are a uniform school. North Shore Elementary uniform consists of pants, shorts, Capri pants, skirts, skorts or jumpers in the colors of navy blue, black, or any shade of khaki. Shorts, skirts or skorts must extend below fingertip. Shirts with short or long sleeves and a collar (polo or dress-style with button) in solid colors of Royal or Navy Blue, Castle Grey, Dragon Red, or Royal Purple. In the event of cold weather, a solid colored sweatshirt, pullover or cardigan sweater is permitted over the uniform shirt. Closed-back shoes (no flip flops or sandals). myPCS students are not required to wear uniform, however, when in front of the camera the student must be dressed in school appropriate attire.
A current school supply list is posted on the North Shore Elementary school website. Don't forget that many retailers participate in programs that help earn money for schools.
To keep our campus safe for students, all visitors to campus must be approved by administration. Parents who need to register must contact Ms. Macon at maconr@pcsb.org.
All students are eligible to receive a free nutritious lunch. Students are permitted to bring a lunch from home.
Parking is extremely limited on campus! We discourage parking in the neighborhood but if you must park on the street, please observe all parking signs. Please do not park in our neighbors' yards or block their driveway areas. No student drop-off will be permitted in the bus circle. All students in that area should be bus riders or walkers.
Please be sure your child knows how he/she will be getting home from school each day. In order to adhere to social distancing, students will remain in the classroom until called. Dismissal will begin at 2:55 p.m. and may take longer in the beginning as students and parents get used to the routine. Our experience is that once the procedures are known by all, things will run more quickly.
Car Circle Dismissal. Please follow the traffic flow patterns (see below). We will have staff directing parents to the traffic patterns in the car circle. Please adhere to the directions from our staff. Safety is our number one priority and we need parents to follow the traffic patterns in order to ensure everyone's safety. Each family will receive identifiers for pick-up during the first week of school. This will assist our staff to have your child ready and, on their way, as you enter the pick-up zone. However, you can help us out by having your child's name and grade clearly visible in the front window. Your patience and adhering to these guidelines will help with a smooth dismissal.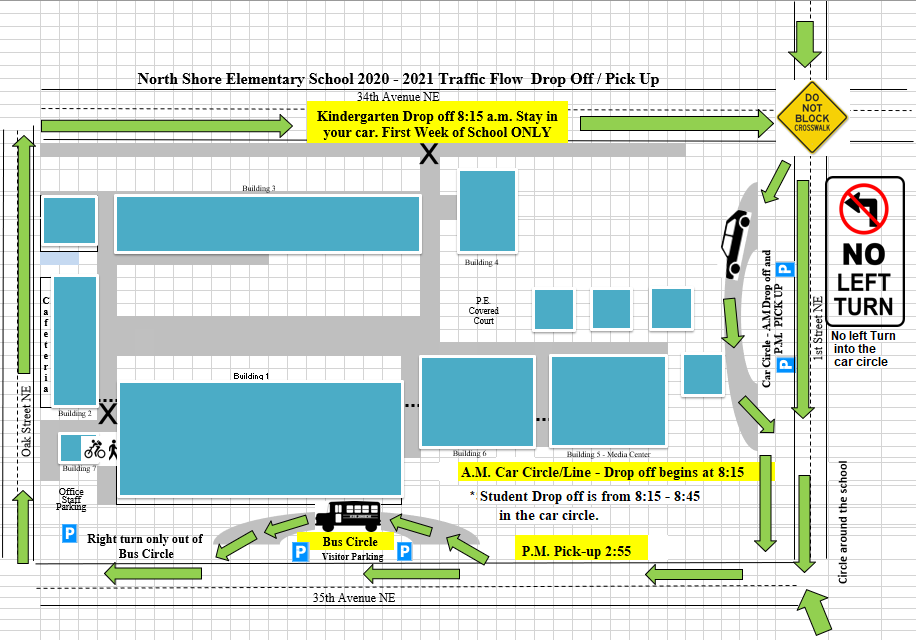 If your child is to be a walker or bike rider, they will be dismissed at the cafeteria gate. If you are walking or riding with your child, please meet them there at dismissal.
Students who are eligible bus riders should receive a postcard in the mail with his/her assigned bus stop, route number, pick up time, and drop off time. If you do not receive a postcard in the mail or have questions about transportation you can call the help line at 587-2020 or visit the transportation link on the Pinellas County Schools website: https://www.pcsb.org/Domain/178.
We have several ways for parents to stay connected with the events at North Shore Elementary. Please visit our school website at pcsb.org/northshore-es. We also have a social media presence on Facebook, Instagram and Twitter. It is important to be sure you have a current email address listed in Focus to receive additional updates. You can check your email address by accessing your child's Focus account. These communication tools are a great way to stay in touch with our school. As always, you can contact the school at 727-893-2181 between the hours of 8:15 a.m. to 3:45 p.m. with any questions you may have.
We are excited to see all our returning Knights and to get to know our new-to-the-Castle-Knights. North Shore Elementary School is an awesome place to work and learn. Until next time, Carpe Diem! Carpe Success!