North Shore PTA Memberships & Getting Involved
We'd love you to join our team! Please consider joining our PTA. Memberships cost $5 and are available to anyone who wishes to support North Shore (parents, grandparents, friends and neighbors). There are many opportunities for involvement. You can help with events, with campus beautification, or with reaching out to local businesses for donations, incentive items or discounts. If you'd like to help, or if you have any other ideas, questions or suggestions, we'd love to hear from you. Please feel free to contact Ms. Macon at maconr@pcsb.org.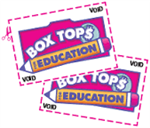 Box Tops
Please keep clipping your Box Tops over the summer and just send them in with your student at any time.