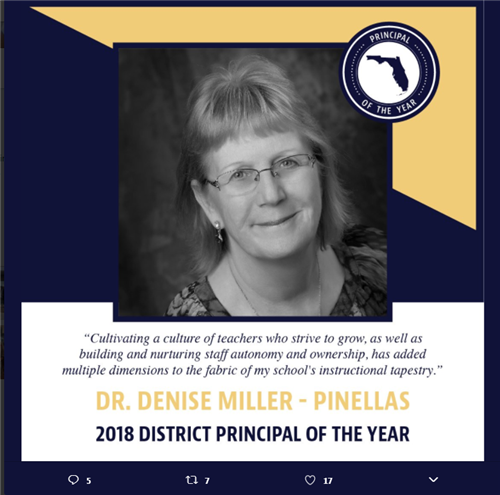 We are very proud to announce Dr. Miller's selection as Pinellas County Schools Principal of the Year for 2017/18! A born educator and the oldest of five children, Dr. Miller honed her teaching and supervisory skills early on in her daily family life. Her innate educational instincts served her well at home and in her future career choices.
Dr. Miller is the first and only principal of James B. Sanderlin PK-8 IB World School, which opened in 2003 in south St. Petersburg. The school's PYP Programme and then MYP Programme status has been achieved and maintained through Dr. Miller's tenacious and indefatigable leadership. With over 30 years of experience in Pinellas County Schools, she is recognized as a skilled, innovative, and compassionate educator. Dr. Miller has consistently fostered school environments built on respect, responsibility, common values, and diversity– relentlessly placing students first. She is also a representative for IB Americas on the development committee for the IB Primary Years Programme, headquartered at IB Global Centre in The Hague, Netherlands.
In her early professional life, Dr. Miller was a special education teacher and then Behavior Specialist in the Safety Harbor ESE Center. From there she moved to the USF Florida Mental Health Institute, ultimately directing Research, Training and Consultation. After that leadership role, she also served as Project Director for the Florida Autism Task Force and returned to Pinellas County Schools. Dr. Miller became the assistant principal at Blanton Elementary in 1991 where she led a team in expanding student learning through technology. Consequently, Blanton was one of four local schools to receive a grant for hardware and software.
As principal of St. Petersburg Challenge, a dropout prevention center, Dr. Miller cultivated new strategies and resources beyond those offered in a traditional classroom in order to inspire her students. She was able to increase student achievement through instructional technology. Dr. Miller was received numerous national awards, including the Outstanding Professional Performance International Award from the International Council for Children with Behavioral Disorders in 1990 and the USF Pinellas County Alumni Chapter's Distinguished Alumni Professional Achievement Award in 2001.
At Sanderlin PK-8 IB World School, Dr. Miller has consistently demonstrated her strong belief that empowering students to use technology as a cognitive tool levels the playing field for all students. She is adamant that students learn WITH technology and not merely FROM technology. She encourages innovation and creativity in her students and staff. Dr. Miller is also adept in motivating parents, teachers and staff to work collaboratively through Family Fun Nights, the Edible Peace Patch Garden, and many student and school-based initiatives from the IB emphasis on global citizenship and taking action toward a more peaceful world for all.
Please join us in congratulating Dr. Miller on this well-deserved recognition!