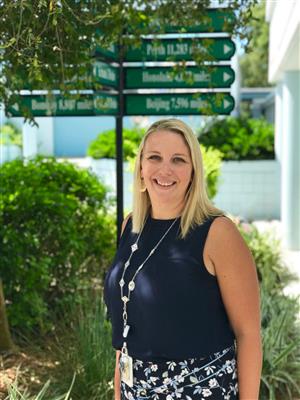 I am so excited to introduce myself as the new Sanderlin K-8 IB World School, Assistant Principal. Sanderlin has a long-standing reputation of excellence, classroom rigor and inquiry, and producing students who are internationally-minded citizens of the world. I am dedicated to continuing the strong tradition of our International Baccalaureate Programme and assisting in creating an environment where all students feel as though they are a part of our school community.
I was born and raised in Buffalo, New York where I completed my undergraduate degree in Elementary Education and Middle School English. Following graduation, I moved to Concord, North Carolina, a suburb of Charlotte, where I taught second and fourth grade for six years. I spent the next two years as a curriculum specialist where I focused on creating intervention and enrichment opportunities for students. Upon graduating with my master's degree in educational leadership, I moved into the role of Assistant Principal of Instruction at a large, comprehensive high school for four years. In January we moved to Pinellas County and I decided to spend some time back in the classroom to finish out the school year. I am honored to continue my journey as a school administrator here at Sanderlin.
I have had many great accomplishments in my career; however, my greatest accomplishment is that of my family. My husband Nate and I have twin boys, Nolan and Kalen, who are 8 years old and entering the 2nd grade.
I truly look forward to learning and growing alongside the students, staff, and families here at Sanderlin. I believe that building relationships sets the foundation for all of the work that we do in the school building. I will work tirelessly to ensure that every student in our building feels safe and loved and that each child has a positive experience while they are here at Sanderlin.
Educationally yours,
Megan Becker
Assistant Principal, Sanderlin K-8 IB World School
beckerme@pcsb.org