MyPCS Online Device Return:
We are asking for all school-issued devices to be returned from our My PCS Online scholars this week. Devices can be returned during one of the following date and time windows explained:
Monday, June 7 from 4:30 - 5:30 p.m.
Tuesday, June 8 from 9:00 a.m. - 3:30 p.m.
Wednesday, June 9 from 9:00 a.m. - 3:30 p.m. or 4:30 - 5:30 p.m.
Thursday, June 10 from 9:00 a.m. - 1:00 p.m.
Friday, June 11 from 1:30 - 4:00 p.m.
Please enter through the front entrance and make a quick right to follow the path around to the back of the Media Center, which is located where the covered walkway is. We ask that you please come at one of these designated times to return the school-issued device. You may also come to the Front Office at any time next week between 9 a.m. - 4:00 p.m. to return the device, if the designated times do not work for your schedule.
Student Award Videos
6th Grade link: https://youtu.be/c1MhBKiTP6o
7th Grade link: https://youtu.be/u257jpcGSYU
8th Grade link: https://youtu.be/NA7xV13rNjQ
JHOP's Testing Information Hub
As testing for students approcahes quick, there is lots of information to be shared.
For your convenience, we will be posting all testing information on our Testing Info Hub page on our website.
Ready - Set - Test!
FSA Testing Informational Video: https://youtu.be/6f-C7ro0kOk
Testing Dates for In-Person Scholars:
District End of Course Exams (World History, US History, 6th and 7thGrade Science, and All Elective Courses):
Thursday, June 3 (Periods 2 and 6)
Friday, June 4 (Periods 1 and 5)
Monday, June 7 (Periods 4 and 8)
Tuesday, June 8 (Periods 3 and 7)
Online scholars, please register here.
Spring Dance Concert:
If you missed our Spring Dance Concert, it is now available to view online! We hope you enjoy!
Video Link: https://youtu.be/XwaNa0LrG4k
Orientation Video:
If you missed our Virtual Orientation, you can access our Welcome to Jhop video here!
Free Summer Camp Registration for Instrumental & Vocal Music Students:
This is a free summer camp for current students grades 6-8 in band, chorus, or orchestra. Registration for our FREE Ignite Middle School summer camp is LIVE!
National Journalism Education Association Award Winner:
Congratulations to Nahshon Cooper for his achievement of second place for the National Journalism Education Association Award of "Young Journalist Award".
Please view the links below for what he submitted.
http://jea.org/wp/blog/2021/04/08/jea-honors-pennsylvanias-denkovich-as-2021-aspiring-young-journalist/
https://www.youtube.com/watch?v=QDoAiHfnuP0
https://www.pcsb.org/site/default.aspx?PageType=3&DomainID=140&ModuleInstanceID=57090&ViewID=6446EE88-D30C-497E-9316-3F8874B3E108&RenderLoc=0&FlexDataID=107497&PageID=273
Award Winners for 20-21 Pinellas County Student Surrealist Exhibition:
Congratulations to Verity Skelton and Rinesa Murati on winning this outstanding achievement for their artwork!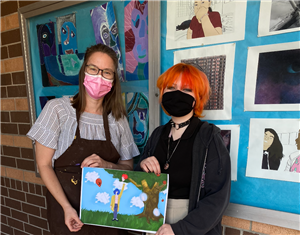 Magnet Program Acceptance Assistance:
PCS held a live virtual magnet program acceptance help session via Facebook Live. It is available for you to view at your leisure!
Magnet Program Discovery Video:
Click here for an in-depth and visual exploration of our three magnet programs!
Spring 2021 State Assessment Guidance- Emergency Order 2021-01: Action Item
Emergency Order (EO-2021-01) was issued by the Florida Department of Education (FDOE) on February 15, 2021, and extends the spring testing window for each subject by two (2) weeks. EO-2021-01 takes into account that many districts delayed the start of school in August 2020. This extension will allow for additional testing days and will allow for more flexibility in scheduling tests. The emergency order establishes adjusted assessment data reporting timelines. Results for the grade 3 ELA FSA will be released no later than June 20, 2021, and all other assessment data will be released no later than July 31, 2021. The emergency order does not address any other aspect of state standardized testing.
Spring 2021 State Assessment Family Frequently Asked Questions (FAQs).
*NEW* JHMS Dress Code Apparel Store:
John Hopkins Middle has it's own apparel store! We have Spirit Shirts, Polos, Embroidery and Patch options, and so much more! To visit our website, click the link below!
2021 Yearbook Order Available:
You may now order your yearbooks for the 2020-2021 School Year! To view instructions, click here, and follow the prompts on your screen to order!
You can order a copy at ybpay.lifetouch.com. The yearbook ID code is 13577421. Cost is $35.
2020-2021 Bell Schedule (for ALL students):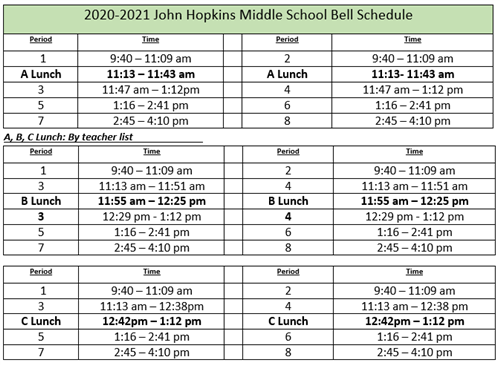 **Steps for Accessing Canvas for Students**
Go to Clever.
Click on Log in as Student (top right corner of screen).
Click Log in with Active Directory (Pinellas County Schools should be right above this button).

If Pinellas County Schools is not showing, click 'Not your District?' and type/select Pinellas County Schools.

Sign in to the PCS page that pops up using your R2.D2 number and password that you use (either your 's.' number or current password).
Now that you're signed into Clever, scroll down a bit to the 'Top Applications' section, and click the Canvas icon (it will be a red icon).
You should now be on the Canvas log in screen. Sign in using your R2.D2 number and your 's.' number (s.xxxxxxxx | s. with eight-digit number).

Your s. number is your ONLY password to Canvas. You must know your district-issued s. number to log into Canvas.

Now that you're signed into Canvas, you can now access your courses and assignments!
To access detailed instructions with images and explanations, click here!
Meal Distribution for the 2020-2021 School Year:
This upcoming year, PCS will be providing meal distributions for students who are enrolled in Traditional School AND MyPCS Online! To learn more about the distributions for each learning option, click the following link.
Update your FOCUS Contact Information:
Click the link to learn how you can update your student's FOCUS contact information: https://app.peachjar.com/flyers/1039476/schools/65984
Thanks to our Community Partners!
A sincere thank you to the following donors:
Carlmon & Pamela Jones
Caspers Company
Jane Thompson & family
Lawson's Funeral Home
Rotary Club of Gulf Beaches
Mr. Ty Fields
For your thoughtful donation to support the success of Hopkins Middle School. You are appreciated!
Thank you to the following organizations for your generous donations to the PBIS program at JHMS:
Men of Yesterday, Today, and The Future, Inc.
Advantage Village Academy, Inc.
You are appreciated!
JHMS Vision Statement: 100% student success by modeling Trojan PRIDE expectations daily.
JHMS Mission Statement: To prepare each and every student to be knowledgeable, open-minded, critical thinkers that have a mutual respect for all cultures.

Administrative Team (Pictured Above From Left to Right)
Monica McIntosh (8th Grade AP), Kimberly Vongsyprasom (6th Grade AP & Magnet Coordinator), Nicole Martin (7th Grade AP), Carlmon Jones (Principal)
John Hopkins Middle School Video [Closed Captions]