6th Grade Orientation is on August 9, 2021, @ 2 PM!!!
We hope to see you there!
If you have questions-please call the 6th Grade office: 727-893-2400 x2036
Student Award Videos
6th Grade link: https://youtu.be/c1MhBKiTP6o
7th Grade link: https://youtu.be/u257jpcGSYU
8th Grade link: https://youtu.be/NA7xV13rNjQ
Free Summer Camp Registration for Instrumental & Vocal Music Students:
This is a free summer camp for current students grades 6-8 in band, chorus, or orchestra. Registration for our FREE Ignite Middle School summer camp is LIVE!
National Journalism Education Association Award Winner:
Congratulations to Nahshon Cooper for his achievement of second place for the National Journalism Education Association Award of "Young Journalist Award".
Please view the links below for what he submitted.
http://jea.org/wp/blog/2021/04/08/jea-honors-pennsylvanias-denkovich-as-2021-aspiring-young-journalist/
https://www.youtube.com/watch?v=QDoAiHfnuP0
https://www.pcsb.org/site/default.aspx?PageType=3&DomainID=140&ModuleInstanceID=57090&ViewID=6446EE88-D30C-497E-9316-3F8874B3E108&RenderLoc=0&FlexDataID=107497&PageID=273
Award Winners for 20-21 Pinellas County Student Surrealist Exhibition:
Congratulations to Verity Skelton and Rinesa Murati on winning this outstanding achievement for their artwork!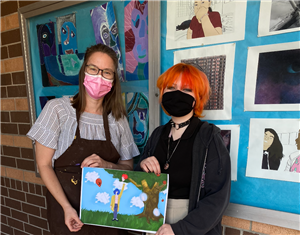 Magnet Program Acceptance Assistance:
PCS held a live virtual magnet program acceptance help session via Facebook Live. It is available for you to view at your leisure!
Magnet Program Discovery Video:
Click here for an in-depth and visual exploration of our three magnet programs!
*NEW* JHMS Dress Code Apparel Store:
John Hopkins Middle has it's own apparel store! We have Spirit Shirts, Polos, Embroidery and Patch options, and so much more! To visit our website, click the link below!
Update your FOCUS Contact Information:
Click the link to learn how you can update your student's FOCUS contact information: https://app.peachjar.com/flyers/1039476/schools/65984
JHMS Vision Statement: 100% student success by modeling Trojan PRIDE expectations daily.
JHMS Mission Statement: To prepare each and every student to be knowledgeable, open-minded, critical thinkers that have a mutual respect for all cultures.

Administrative Team (Pictured Above From Left to Right)
Monica McIntosh (8th Grade AP), Kimberly Vongsyprasom (6th Grade AP & Magnet Coordinator), Nicole Martin (7th Grade AP), Carlmon Jones (Principal)
John Hopkins Middle School Video [Closed Captions]