Greetings Bay Vista Families, Students, and Friends,
It is with great enthusiasm that I write this letter of introduction to you as the Principal of Bay Vista Fundamental. I am honored to have the opportunity to lead such a family-oriented school. Previously, I served as Assistant Principal of North Shore Elementary, Assistant Principal of Starkey Elementary, District Literacy Coach, and classroom teacher. I am delighted to bring my skills as an educational leader to Bay Vista and work with you as a partner in education to ensure your child's success.
As your principal, it is important to me that everyone who steps through our doors - teachers, students and parents - is excited to be here. This attitude enables us to meet the challenges of academic excellence in a positive, fun and nurturing environment. Along with the teachers and staff, I will work hard to continue the legacy of success established at Bay Vista by building strong relationships with parents, students and our community partners.
As an instructional leader, I am dedicated to helping all students reach their full potential. Our instructional teams strive to provide rigorous and standards-aligned instruction to prepare your students for college and career upon leaving elementary school. Your active support and cooperation, combined with our best professional efforts, will ensure that your child has a successful year of learning!
I am looking forward to an amazing year at Bay Vista!
Go Jaguars!!!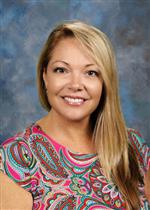 Donna Hall
Principal