Student Hours: 8:15 AM - 2:25 PM
Car Circle: Students may arrive on campus as early as 7:45 AM and report to their line-up area. Students will enter classrooms at 8:05 AM. View Car Circle Map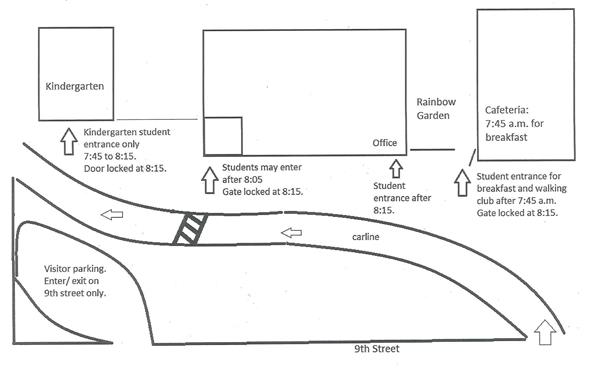 Tardy Bell: 8:15 AM

Breakfast Hours: 7:45 - 8:10 AM
Office Hours: 7:45 AM - 3:00 PM
Bay Vista Fundamental Fast Facts for Parents 2019-20
Breakfast begins at 7:45 AM and will be served daily in the cafeteria until 8:10 Please make sure your child is on time if he/she plans to eat breakfast in the cafeteria. Upon finishing, they will participate in Walking Club until 8:05.
Breakfast is offered at no charge to ALL students this year. If families need proof of free lunch, please contact Debbie Rivera, cafeteria manager at 893-2335.
All K-5 students eat in the cafeteria. Parents may join their child for lunch in the Rainbow Garden, but must be signed in at the front office and on the clinic card as an approved contact to do so. Visitor badges must be visible at all times. NEW Security Measure: Parents must return visitor's passes to the front office prior to leaving campus.
Students are NOT permitted to be dropped off prior to 7:45 AM as there are no adults to watch them. Students may arrive on campus as early as 7:45 AM and enter at Rainbow Garden to have breakfast in the café or go to walking club. Walking club is for students in grades 1-5 only. NEW Security Measure: While parents may not attend breakfast with their student, we do invite you to join your child for lunch in the Rainbow Garden any day after signing in at the front office.
For our walkers, we will only be using the first crosswalk this year for safety reasons. An adult will be there to stop traffic and assist with safe crossing. The second crosswalk will not be used this year for crossing.
Parents of car riders will need to complete a tag with child's name, grade and teacher to hang in the window so we can call students' names and make sure the car circle runs smoothly.

Parents picking up students early must come to the front office to sign their children out of school. In order to sign children out, a person MUST be listed on the clinic card and have a valid state ID. We will NOT release students otherwise. We will not release students past 2:00 pm. Please plan accordingly.
If your child will need to have prescription or over the counter (OTC) medication during school hours, it is important for you to visit the front office PRIOR to school starting. Both types of medications require additional paperwork that must be completed by a parent and/or doctor. Students may NOT transport any medications to school.
Please make sure your child knows how he/she is getting home every day. Contact the front office with any changes AND write a note to your child's teacher.

Cell phones may be brought to school by students, but they MUST remain off inside backpacks. They may NOT be visible on campus at ANY time or they will be confiscated.