Magnet Program Discovery Video:
Click here for an in-depth and visual exploration of our three magnet programs!
Adaptive Progress Monitoring Assessment for MyPCS Scholars - RSVP:
Parents/guardians, please use the following link to select the best day and time window for your child to come onto campus to take the Adaptive Progress Monitoring Assessment. Available dates are Wednesday, 12/16 and Thursday, 12/17. Time windows are: 9:00 a.m. – 11:30 a.m. and 12:30 p.m. – 3:00 p.m. respectively for both days. Please know we will follow all CDC protocols to ensure a safe testing environment and your child will not be testing alongside and face to face scholars. Your child may bring a snack to eat between testing sessions. If you cannot access the link, please contact the 8th Grade Office at (727) 893-2400, extension 2038 and share the day and time window that best works for you.
https://forms.office.com/Pages/ResponsePage.aspx?id=BZM8c9c5GkaGb_3ye_PH_2zI8WmjVhRJi1bdBdzc1hpUOEtXMjU4V1hMWUhTSEhNUkowUzhHS05KOC4u
Show your Support for Journeys in Journalism!
#GivingTuesday officially begins December 1st and we need your support to raise funds for Journeys in Journalism.
Help us spread the word and ask friends and family to make a gift of support to Journeys in Journalism through the Pinellas Education Foundation. Each gift donated will help further our mission of helping students acquire the skills needed to pursue a career in communications, journalism, and multimedia.
Also, Amazon Smile is an easy way to support Journeys in Journalism when you shop online. Shop at smile.amazon.com and they will donate 0.5% of eligible purchases to Pinellas Education Foundation.
*NEW* JHMS Dress Code Apparel Store:
John Hopkins Middle has it's own apparel store! We have Spirit Shirts, Polos, Embroidery and Patch options, and so much more! To visit our website, click the link below!
2021 Yearbook Order Available:
You may now order your yearbooks for the 2020-2021 School Year! To view instructions, click here, and follow the prompts on your screen to order!
2020-2021 Bell Schedule (for ALL students):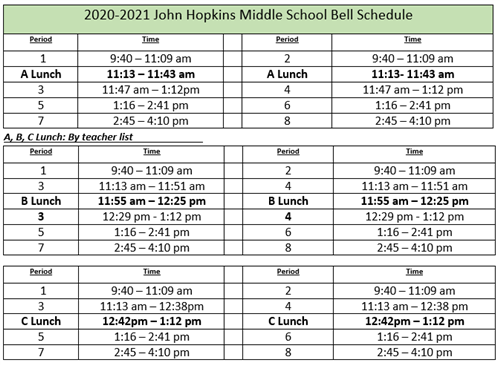 **Steps for Accessing Canvas for Students**
Go to Clever.
Click on Log in as Student (top right corner of screen).
Click Log in with Active Directory (Pinellas County Schools should be right above this button).

If Pinellas County Schools is not showing, click 'Not your District?' and type/select Pinellas County Schools.

Sign in to the PCS page that pops up using your R2.D2 number and password that you use (either your 's.' number or current password).
Now that you're signed into Clever, scroll down a bit to the 'Top Applications' section, and click the Canvas icon (it will be a red icon).
You should now be on the Canvas log in screen. Sign in using your R2.D2 number and your 's.' number (s.xxxxxxxx | s. with eight-digit number).

Your s. number is your ONLY password to Canvas. You must know your district-issued s. number to log into Canvas.

Now that you're signed into Canvas, you can now access your courses and assignments!
To access detailed instructions with images and explanations, click here!
Meal Distribution for the 2020-2021 School Year:
This upcoming year, PCS will be providing meal distributions for students who are enrolled in Traditional School AND MyPCS Online! To learn more about the distributions for each learning option, click the following link.
Update your FOCUS Contact Information:
Click the link to learn how you can update your student's FOCUS contact information: https://app.peachjar.com/flyers/1039476/schools/65984
Thanks to our Community Partners!
A sincere thank you to the following donors:
Carlmon & Pamela Jones
Caspers Company
Jane Thompson & family
Lawson's Funeral Home
Rotary Club of Gulf Beaches
For your thoughtful donation to support the success of Hopkins Middle School. You are appreciated!
JHMS Vision Statement: 100% student success by modeling Trojan PRIDE expectations daily.
JHMS Mission Statement: To prepare each and every student to be knowledgeable, open-minded, critical thinkers that have a mutual respect for all cultures.

Administrative Team (Pictured Above From Left to Right)
Monica McIntosh (8th Grade AP), Kimberly Vongsyprasom (6th Grade AP & Magnet Coordinator), Nicole Martin Harazin (7th Grade AP), Carlmon Jones (Principal)
John Hopkins Middle School Video [Closed Captions]