**ATTENTION ALL 8th GRADERS: PSAT TESTING INFORMATION**
All face-to-face learners will take the PSAT on October 27.
MyPCS Online learners who signed up for the PSAT will take it on October 28.
Stay tuned for more information.
2020-2021 Bell Schedule (for ALL students):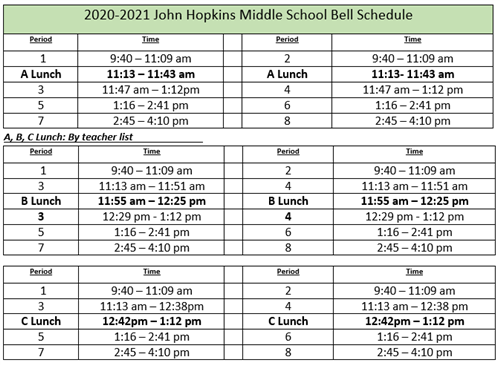 Back to School Forms
Click the following link to access all of the county's and school's Back to School Forms.
**Steps for Accessing Canvas for Students**
Go to Clever.
Click on Log in as Student (top right corner of screen).
Click Log in with Active Directory (Pinellas County Schools should be right above this button).

If Pinellas County Schools is not showing, click 'Not your District?' and type/select Pinellas County Schools.

Sign in to the PCS page that pops up using your R2.D2 number and password that you use (either your 's.' number or current password).
Now that you're signed into Clever, scroll down a bit to the 'Top Applications' section, and click the Canvas icon (it will be a red icon).
You should now be on the Canvas log in screen. Sign in using your R2.D2 number and your 's.' number (s.xxxxxxxx | s. with eight-digit number).

Your s. number is your ONLY password to Canvas. You must know your district-issued s. number to log into Canvas.

Now that you're signed into Canvas, you can now access your courses and assignments!
To access detailed instructions with images and explanations, click here!
ATTENTION 8th GRADE PARENTS:
The entrance criteria for High School AICE and IB programs have changed due to COVID-19. Your student's 6th grade FSA scores and the PSAT 8/9 will be used to determine their eligibility for programs. Please refer to your AICE or IB High School for more information.
Meal Distribution for the 2020-2021 School Year:
This upcoming year, PCS will be providing meal distributions for students who are enrolled in Traditional School AND MyPCS Online! To learn more about the distributions for each learning option, click the following link.
JHMS Vision Statement: 100% student success by modeling Trojan PRIDE expectations daily.
JHMS Mission Statement: To prepare each and every student to be knowledgeable, open-minded, critical thinkers that have a mutual respect for all cultures.

Administrative Team (Pictured Above From Left to Right)
Monica McIntosh (8th Grade AP), Kimberly Vongsyprasom (6th Grade AP & Magnet Coordinator), Nicole Martin Harazin (7th Grade AP), Carlmon Jones (Principal)
John Hopkins Middle School Video [Closed Captions]