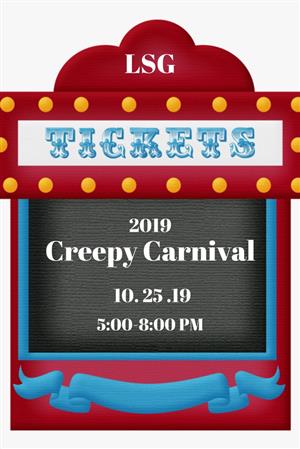 On Friday, October 25th our school PTA and Staff will be hosting our Annual Family Fall Festival for our LSG families. This event is from 5pm to 8pm with games, music, activities, bouncers, food for all!
The option to Pre-Order your Fall Festival tickets at a discounted price is now CLOSED.
Tickets WILL be available to purchase at the door the night of the festival - @ 4 for $1.00. There will also be waivers available to sign if your child will be using the inflatables. We must have a waiver for your child to participate!!
We are aware that some of you may have earned fall festival tickets through selling items for the Fall Fundraiser, the Opt OUT option this year, and/or TOP collectors of box tops. We are still calculated those results and families will be receiving those tickets as soon as we have them settled.
Festival Tickets can be used for all games, entertainment booths and concessions that evening.
We will also have a variety of delicious dinner options that night. These are available to purchase with cash only.
So come hungry and do bring extra cash if you would like to have dinner with us!
* Southern Steer!
* Cuban Breezes- Cubans!
* Wood Fired Pizza options- by Corvo Bianco!
It's going to be a Creepy Carnival of fun!
So come dressed up and help us celebrate one of our most anticipated events of the year!!
- LSG PTA
Contact Olga Bartolomeo: olbartolomeo@gmail.com for more information

---