Hello M.B.F.S. community,
Thank you for visiting our school website. We hope that you will find it to be a resource for instruction and information about our school.
With a student body of nearly 1,400 students and a faculty and staff just under 130, we are unique in that our school is almost the size of a mini city! We are the largest K-8 school in the Pinellas County school district and one of just a few schools across the United Sates located on a coast line. Our school vision is 100% student success. We are an A grade school, ranking as one of the district's top schools. The foundation of this success rests on the partnership between our stakeholders (students, families, staff, and the community at large).
While we hold high academic standards, we value our safe, fun learning environment. We model honestly, respect, responsibility, and self-motivation. I cannot think of a more important role in our life than to do this and to serve and help others. We can do this at any age, young to old. I tell our students each day to always try to bring each other sunshine! Recently I've made it my personal charge to remind our students to T.H.I.N.K. before speaking, writing, or posting thoughts or opinions to social media.
When posting, speaking, or writing, are the words I use: Truthful, Helpful, Inspiring, Necessary, or Kind? The old saying, "sticks and stones may break my bones, but words don't hurt," could not be further than the truth. Sticks and stones do hurt…but so do words! It takes a village to raise a child and we will do our part at school. Together we can teach humility and kindness.
Now, in our ninth year as a school, and for me, my ninth year steering the ship, I promise you we will continue to ensure high expectations for all students. Thank you for taking the time to learn about our school. Take care, and always remember to bring sunshine to others.
Mr. Chris Ateek,
Principal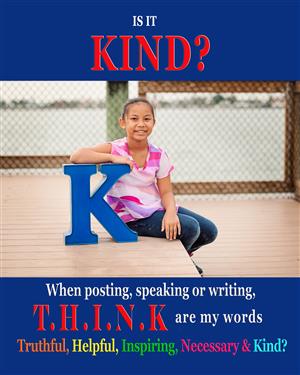 Angelina L. – The acronym T.H.I.N.K. means to me your words are more powerful than you think. Think before you say anything. Your words should be truthful, helpful, inspiring, necessary, and kind. Can you say the right thing?