Hello MBFS Students & Families,
Welcome back Madeira Beach Fundamental students and staff. I hope you had a fun, happy and healthy winter break.
We hope that you will make it your new years resolution to join us in the car line each morning and afternoon (if you have not already been doing so). This considerte act would make our friends in the business community, the surrounding neighborhood and me so happy. We love the opportunity get to know you and put faces to our students and families. And speaking of the return to school, our middle grades students will be directed to report to their December first period class to receive their new schedule for the second semester.
As you may know, COVID-19 case counts and positivity rates have been rising throughout the nation, Florida and Pinellas County. Please continue to monitor yourself and your family closely for any sign of potential illness. Students and staff should remain home if they are exhibiting any symptoms of COVID-19. We need your cooperation and support to ensure that we continue to have a safe and productive school year. As a result, we are amending our required January PTSA or SAC parent meeting schedule to include only virtual opportunities. You will receive meeting links in the near future. If you are looking for a face to face meeting option, on January 24th we will be hosting a Community Partner Night to celebrate businesses in our community. You can receive meeting credit all while helping raise funds for the Manta Store. From 5:00P – 8:00P, plan on stopping by one of our business partners, enjoy some yummy food and receive January Meeting credit. The locations are to be announced.
We will see you bright and early Tuesday morning in carline. Thank you.
Mr. Chris Ateek,
Principal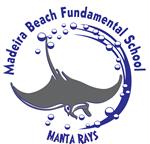 PRINCIPAL'S POSTS...
JANUARY
1/10 PTSA Meetings (VIRTUAL MEETING), 5:30P

1/24 Community Parnter Night
1/25 SAC/ Parent University Meetings (VIRTUAL MEETING), 5:30P
OTHER ANNOUNCEMENTS
IDOL GOES MAD
PTSA Idol Goes Mad talent show is just around the corner. Let's start our new year and new semester off with some great entertainment! The show is scheduled for February 3rd! Auditions will be held January 11th in the middle school cafeteria between 5-8pm. There is only availability for 18 auditions this year. Please click on the link below to sign up and be sure to be on time for your time slot. Mandatory rehearsal is scheduled for Wednesday, January 26th. Please direct any questions to stephaniemessler914@gmail.com
https://www.signupgenius.com/go/60B0449A8AA28A64-ptsa9
MAD SCIENCE
Mad Beach Fundamental is going to be working with those crazy Mad Scientists in January to offer an after school Mad Scientist's club enrichment program for students in grades K-thru 5th. Only those that want to have a lot of FUN need apply. Dates = Tuesdays Jan 4th - Feb 8th 6 sessions of hands-on FUN! 205 - 3:5.pm. Registration is online only on the Mad Science of greater Tampa Bay website on a 1st come -1st serve basis - only 40 spots available.
CAR LINE/GATE VOLUNTEERS
You could receive Membership Credit for helping us out in the mornings and/or afternoons!! You MUST be a registered Level I volunteer that has reactivated their volunteer focus account for this school year. If you need help with this or more information on becoming a Level II volunteer, please contact our Family & Community Liaison, Stacie Allen.
We could use your help in the mornings and/or afternoons assisting in the car line, covering gates, helping with the parking lots or with the elevated crosswalk on campus. If you are willing to help out for two or more mornings/afternoons, you will receive membership credit. You would need to be at school for about a half an hour each shift.
Please click the link below to see which posts and shifts are available and sign up if you are available. Volunteers need to sign in at the middle side front office when you arrive in order to receive your Membership credit. https://www.signupgenius.com/go/60B0449A8AA28A64-december4
If you have any questions please feel free to contact one of the front offices. 547.7697
**********************************************************************
UPDATES FROM MRS. ALLEN...
MADEIRA RECYCLES!
Madeira Beach Fundamental school is excited to partner with Trash Turtles and Terracycle as we start a recycling program her at MBFS. We have enrolled into 2 recycling programs. Participating in these programs will raise funds to help support our Plant Operations Campus and Beautification projects.
The Bic Program:
Accepted-All brands of empty writing instruments, glue sticks, watercolor dispensers, paint sets, and flexible packaging
Not Accepted - WITE-OUT and DRY ERASE MARKERS ( reads correction fluid and free ink markers)
Swiffer Program:
Accepted- Swiffer Dry, Wet, XL, WetJet, Duster Refills
Best Practice- all items should be dry before placing in bin.
The bins are located in both front offices. Students and families may bring items in and place in the appropriate bin.
Thank you for helping us make a change.

SCHOOL TOURS ARE HERE!
We are excited to welcome families who are interested in learning more about Madeira Beach Fundamental K-8. These tours will occur on Wednesdays throughout the next few months. To maintain social distance protocols, we are limiting the size of these tours. There will be an Elementary tour and a Middle tour for each scheduled date.
Please click the link below to view the dates for our Elementary and Middle School tours.
https://www.signupgenius.com/go/60b0449a8aa28a64-mbfs7
Please check in at the elementary office if you are attending the elementary tour and the middle school office if you are attending the middle school tour. All tours start promptly at 8:30am.
If you have any questions, please be sure to call our school office at 727-547-7697.
Thank you for considering Madeira Beach Fundamental K-8