Congratulations Largo Middle School!
We are now an International Baccalaureate Candidate School Middle School!
IMPORTANT DATES
SUMMER BRIDGE June 4th - July 19th click here for more details
*No Summer Bridge classes July 2nd - July 5th
Parents,
Want to be more involved at Largo Middle School? Click here to see our active volunteer sign ups, and sign up today!
Make your voice heard with the 2018 ESE Parent Survey!
Parent Input and Involvement is important!
Florida Department of Education ESE Parent Survey
Largo MIddle School Code Number is 0141
Our PTSA board is looking for a few parents to become more involved this year, and a few executive positions will be open for the 2018-2019 school year. If you're interested in volunteering a little more this year, or becoming more involved with PTSA, follow this link to see our active volunteer sign ups. Click here.
Largo Middle is now hiring Avid Tutors - click here for more info -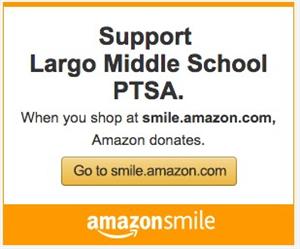 Special Thanks to:
Dunkin Donuts

on Missouri Ave.
for their continued support as valued business partners.
Parents can add money to the account at: http://Myshoolbucks.com