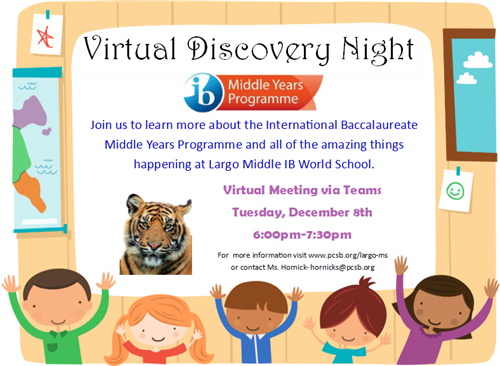 ELP is a free tutoring service provided by the school to provide interventions, remediation, and supports for students who are needing assistance with their work.
For online students, ELP will take place via a Teams call with a designated teacher. These calls will be accessed through Canvas.
Starting 9/29/20, ELP will be offered Tuesday/Thursday morning from 8:20-9:20. Monday afternoon ELP from 4:15-5:15PM will start October 5th.
For questions related to ELP please contact Ms. Hornick at hornicks@pcsb.org or 727-588-4600 EXT 2309.
Need help with technology? Visit www.pcsb.org/mypcsonline for instructions, answers, and resources.
Need help with your LMS computer or technology? Click HERE to submit a request.
Mission Statement:
Largo Middle School strives to inspire students to be internationally minded, critical thinking responsible global citizens who have a passion for lifelong learning and service.
Parents and Friends of Largo Middle IB World School,
In order to limit exposure for all students, parents, guardians and staff, the district suggests we limit campus and facility visits. We are unable to have visitors on campus at this time.
Please feel free to call our main number 727-588-4600 for any assistance needed.
Please visit PCSB.ORG for the school re-opening plan.
Largo Middle School has been added to the meal distribution sites. Please click here for more information.
For the most up-to-date information, follow us on Facebook and Twitter!