SCHOOLS ARE CURRENTLY CLOSED
All Staff are working digitally from home.
Please contact staff via emails. Click here for teachers emails.
---
Schools will reopen August 24, 2020 for Students
Apply for Free/Reduced Lunches Now!
Click on the link to My School Apps www.myschoolapps.com
To put money on your child's lunch account go to My School Bucks www.myschoolbucks.com
---
Osceola Middle School has been recognized by the FLPBIS Project as a 2019-2020 Bronze PBIS Model School! Positive Behavior Interventions and Support (PBIS) is a school-wide framework that, according to national research, enhances student quality of life and reduces problem behaviors. By establishing this framework, OMS staff are developing skills, making changes to the school environment, acknowledging appropriate behavior, and using data to identify supports for our students. As a PBIS Model School, OMS demonstrates a commitment to positive and equitable outcomes for all students!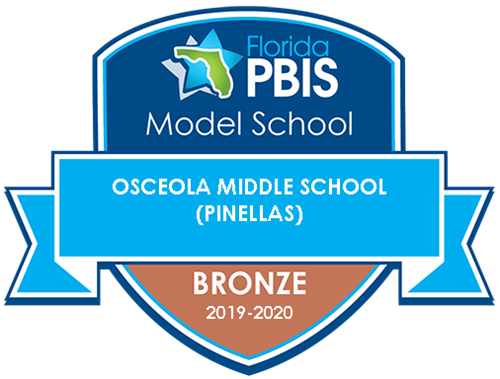 ---
If you are still in need of a laptop please check the link of locations and times listed in this document.
If you are still having issues with a laptop or log in please contact Mrs. Kelly at kellykel@pcsb.org.
---
If you have any medical questions for our school nurse please email Mr. Guertin at guertind@pcsb.org.
Pinellas County Schools Health and Safety Message regarding the Coronavirus (COVID-19) can be found at the following link https://www.pcsb.org/coronavirus
---
Incoming 6th Grade Students who did not attend Discovery Night and choose electives please click on the link below to see options.
Please contact Mrs. Centner, 6th Grade Guidance Counselor or Mr. Adams, 6th Grade Assistant Principal with any questions
centners@pcsb.org adamsdu@pcsb.org
https://forms.office.com/Pages/ResponsePage.aspx?id=BZM8c9c5GkaGb_3ye_PH_38KmH4ywkFFjQ5UaMtlfjtUQ1Y0UkRPQktaNEFXREVGVjQ4QTdZMVFCQi4u
Fill | 6th Grade Elective Course Request

Greetings, incoming 6th grade families. You are receiving this communication as we believe you have not submitted your preferences for electives next year at Osceola Middle. If you have already completed a form but are not sure, you can complete this one just in case. If your student is in our MMI/ESE full time unit, do you not need to complete this form. Please provide basic contact information and then please rank your choices by writing "1", "2" or "3" by your top three choices. 1 being your first choice. THANK YOU!

forms.office.com
---
S.T.E.A.M - Science Technology Engineering Arts Mathematics Academy is coming to OMS!
If you are interested please click on the link below.
---
Moving to Seminole, Florida?
Need to Register your student?
Call 727-588-6210 to Reserve a seat.
If your child has an IEP call 727-588-5128 to reserve a seat.
Items to bring with you to complete registration:
If you are moving from Out of State/County:
Two proofs of your address - Can be a combination of mortage/lease agreement and/or utility bills (Water, Cable, Garbage).
Current Shot Record - You can take your out of state shot record to any Pinellas County Health Department and they will transpose it for free onto the Florida Form 680.
Current Physcial
Birth Certificate and Social Security Card
Grades from Previous School
If you are moving from within Pinellas County:
Two proofs of your address - Can be a combination of mortage/lease agreement and/or utility bills (Water, Cable, Garbage).
If you have any other questions please contact Ms. Levecque, DMT at levecquec@pcsb.org.
---