Return to Headlines
'His ceiling will be as high as he wants'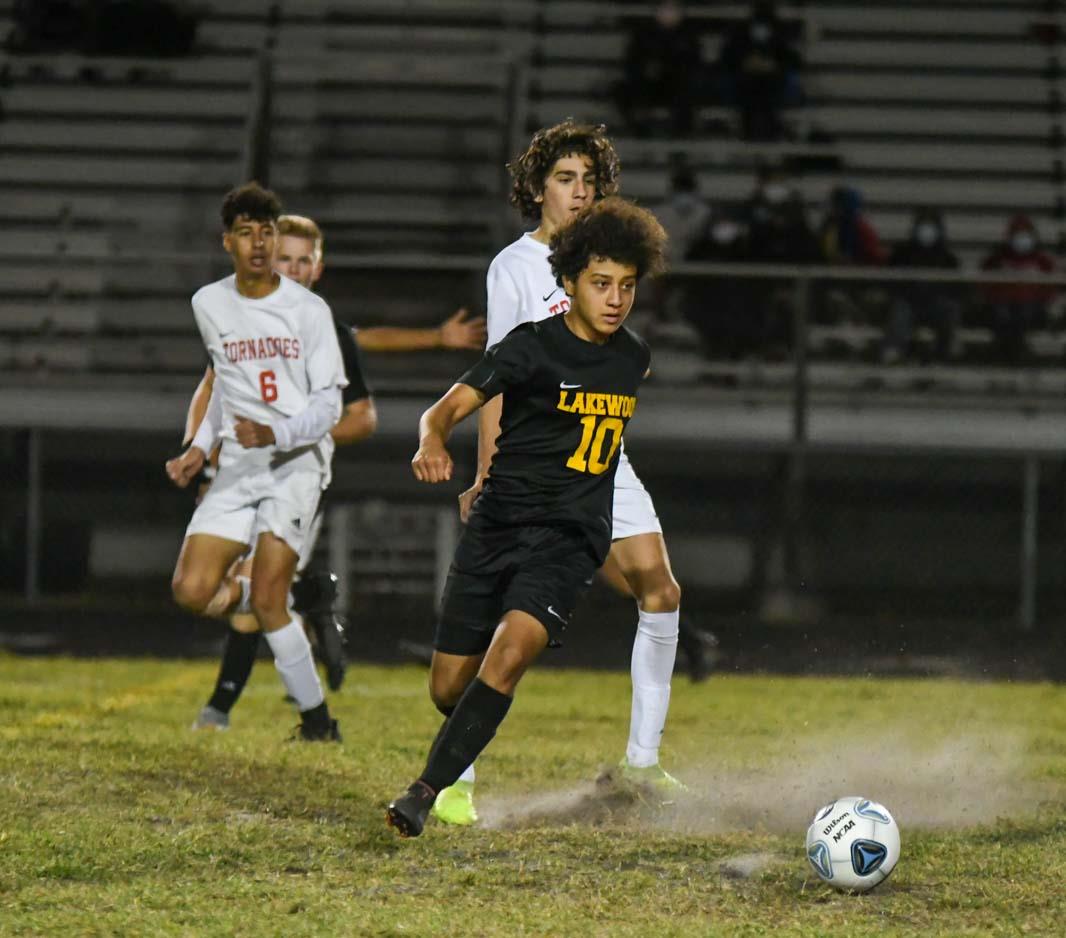 Sophomore Kyle Conde runs after the ball during a game against Clearwater in November.
BY TAVEON WHEELER
SNN Staff Writer
This season the boys' soccer team has been doing well with a 10-2 record. Led by coach Brandon Vaughan, they've been meeting expectations so far this season and sophomore Kyle Conde has been a big reason for that.
"I've been a leader on the field and controlling the games to get wins for our team," Conde said.
Coach Vaughan had nothing but good things to say about Conde, who plays forward on the team.
"He's a leader through his actions and the works he puts in," Vaughan said.
Conde, a sophomore, is on the younger side and is getting used to his new role this season.
"His role is to be the creator and connect everything on the field and create chances to score. … He's been a leader by trying to embrace his new role due to roster changes this season," Vaughan said.
Conde has been working toward achieving his goals in the game.
"I've played for 12 years. … I like playing because my father and I share a love for the game," he said.
Sophomore Salvador Jean said he likes playing soccer with Conde.
"That's my boy," he said. "He's really good. He's a good teammate. He's a good person."
Vaughan said he admires Conde's work ethic and motivation to get better.
"He's gotten faster and stronger and gained more experience. The game slows down for him now…he's the type of player who's hardworking and plays both sides, he isn't one-dimensional," Vaughn said.
Conde loves learning from the greats and the best players at his position.
"Andrés Iniesta, Frankie de Jong and Andre Pirlo inspire me because they're the best at the position I play on the field," Conde said.
Conde said Vaughan pushes his players to be better every day and to be the best regardless of the opponent.
"Coach Vaughan always expects the best from us. He expects the best because he knows we can be the best," Conde said.
Being able to adapt to be poised in all situations is very important in sports and Conde has been the man when it comes to that aspect of the game.
"He's playful sometimes, he keeps the environment loose," Vaughan said.
With the high expectations that Conde has for himself, Vaughan has no doubt he can be the best.
"His ceiling will be as high as he wants," Vaughan said. "He's the only one who can stop himself."