Return to Headlines
Racist threat interrupts school day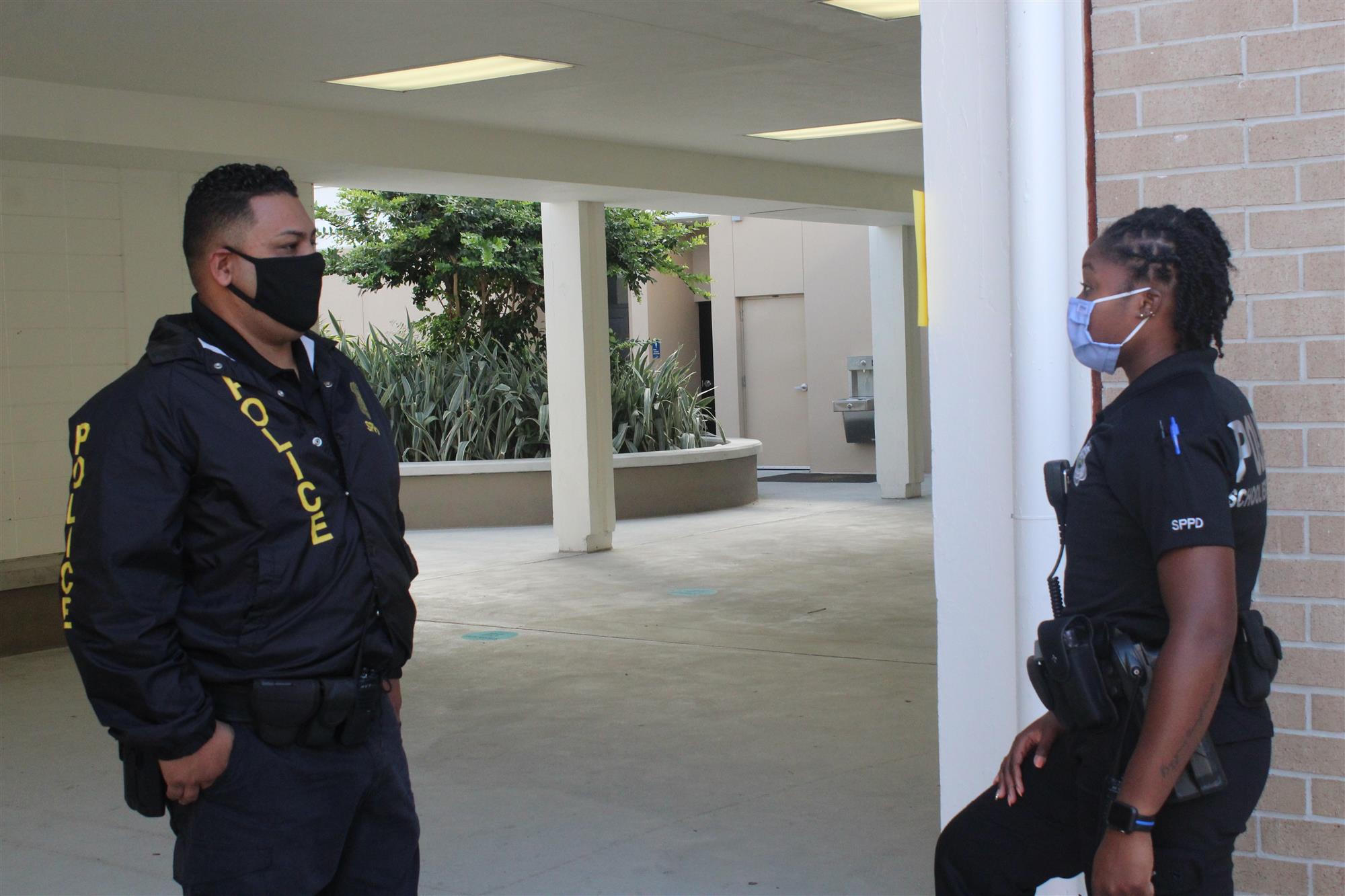 From left, Lakewood's school resource officers Eduardo Rivera and Julie Battiest speak to each other in the school courtyard. An extra law enforcement officer was on campus Monday in response to threat. "The screenshot was seen by thousands of people. Law enforcement handled it Sunday, because they also recieved the same screenshot. It was never related to Lakewood High School," Battiest said.(SKYLAR HARRIS | Alpha-Omega)
The social media post was found to be not credible, though it caused many worried students to leave school.
By MAYA RISH
SNN Staff Writer
Fear and confusion circulated Monday morning when a screenshot of a violent threat that included racist slurs was shared on social media among Lakewood and other Pinellas County students.
The message said the person was going to "shoot up my school Monday at 9:35 a.m." The post, which was seen on Snapchat, included several racists slurs to refer to Black people.
Senior Tiffany Bertram said she heard about the threat from a couple of friends in band and decided to go home at about 10:30 a.m. for her own safety. A girl on the soccer team sent it to all her teammates. Other students AirDropped it to their classmates, and it spread around the school.
"I decided to go home for the sake of my safety, because you never know what's going to happen. As a young adult of color, I felt that being targeted in such a way during school is uncomfortable and sad. Nobody should ever have to feel such a way no matter where the threat was located," Bertram said.
Many students left school in fear that something might happen. According to senior data management clerk Diane Roth, about 75 students went home at the request of their parents.
At about 9:15 a.m. principal Erin Savage sent out a robo-call to parents explaining the situation.
"A Pinellas County Schools student reported the post, and the threat has been thoroughly investigated by law enforcement. The Pinellas County Sheriff's Office has determined that the threat was not credible, was not made in the state of Florida and does not mention any schools by name," she said in the call.
Savage said she was upset about the threat, and that she thinks that people who make such threats are cowards with their own agendas.
"It angered and saddened me that someone in 2021 still feels the need to threaten a group of people based on the color of their skin or political beliefs. Racism is alive a kicking, and it's very sad that people have to walk around in fear because of ignorance," she said.
The threat was not made directly to Lakewood, and police believe it originated somewhere in Texas, Savage said, although there was some confusion as to what school had been targeted. It is not clear who posted the image, but it had begun to circulate on Sunday and was dealt with by law enforcement before the school day started.
"That screenshot was seen by thousands of people. Law enforcement handled it (Sunday), because they also received the same screenshot. It was never related to Lakewood High School," School Resource Officer Julie Battiest said. "The rumors started to say that it was a student at Lakewood who said they were going to do that, and that information was false. So, I wasn't worried because I knew it wasn't something that was going to happen here."
An additional law enforcement officer was on the Lakewood campus Monday in response to the threat for two hours in the morning, and officers were also sent to other schools in the district for added safety.
Many students who chose to leave school early said they were erring on the side of caution. Savage said that if students left with their parents, or permission from their parents through the school, they will not be in trouble.
"If students left campus without permission, we will deal with those students (if we know who they are) on an individual basis. Lakewood staff and administration does not give students permission to leave campus at any time," Savage said.
Senior Amav Khan said he heard about the threat toward the end of first block but wasn't concerned about the danger at school.
"It seemed really vague; administration wasn't scared so why should I be?" Khan said.
When it came to the issue of the threat and the racist words fueling it, both Khan and Bertram said they were upset by its intention. However, they said it wasn't all that surprising.
"(These are) really stupid and hateful people. I feel a little bit of sympathy for them because they might have underlying issues, (but) being a murderer because you feel ostracized or attacked is not justifiable," Khan said.
Bertram said she wished she knew why people feel such a way, especially toward people of color.
"The only difference is a little bit of melanin and pigment in our skin. That doesn't make us any different, and that goes for any race or ethnicity. … It's not fair that we can't even feel comfortable in our own schools, the 'safest place' people say, … but to feel like we are below, divided, or not as good as another kind should never be a concern, especially in a learning environment, " she said.
SNN Staff Writers ANIYA TRUEBLOOD and ADDYSON SYLVESTER contributed to this story.