Return to Headlines
Winter concert rescheduled for Jan. 20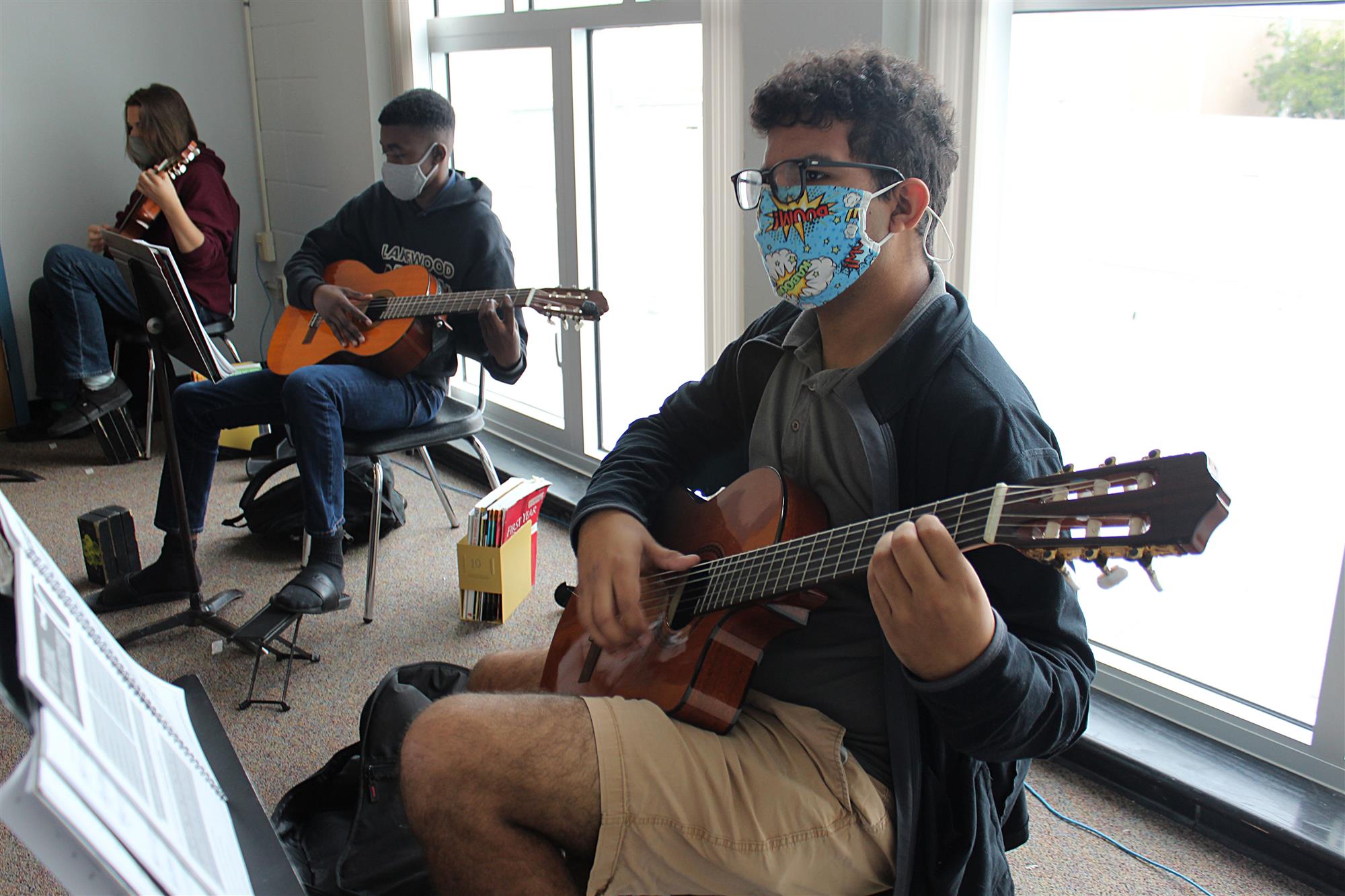 Senior Martin Martinez practices a piece in guitar class on Dec. 16. A guitar ensemble is one of the music classes that will perform at the winter concert which was postponed until Jan. 20. (DESTINI GONZALEZ |SNN)
Lakewood's musicians will be showcased in an outdoor concert, socially distanced on the football field.
By KYLER BUENDIA
SNN Staff Writer
Lakewood's winter concert – postponed from December due to bad weather – will be on Jan. 20 from 6:30-7:15 p.m. out on the football field.
The concert will include performances from the marching band, orchestra, chorus, guitar ensemble and steel drum band. Some groups will collaborate with one another during the performances.
There is no cost for audience members to attend, though donations are being accepted. Because the event is being held on the football field, families will need to bring their own picnic blankets or lawn chairs. Anyone who comes must wear a mask, and properly distanced areas will be marked on the football field where each group can sit.
Organizing the concert was slightly more difficult because of restrictions due to the coronavirus. Because the auditorium is off-limits it had to be organized around athletic events outside.
"Coach Vaughan and the soccer team were very helpful, and Ms. Mudd helped us get everything worked out and officially on the calendar," music teacher Jacob Merrett said.
Currently, due to Covid-19 regulations, school activities that occur outside of school hours have been far and few. Not much has been seen from arts, like orchestra and theater, but a lot of sports games have continued on through this pandemic.
Indoor arts events are not being held due to a district directive on problems with distancing and air circulation with the performers, Merrett said. He said he agrees with the policy.
"I think it is the best way to keep people safe during the pandemic, especially as cases are on the rise," Merrett said.
Although indoor arts events are not allowed in the school district, outdoor concerts are permitted, and with a touch of creativity a lot of the restrictions due to COVID-19 are not as obstructive as they would be to the performances.
"Some (schools) are doing 'carousel' type performances where the audience moves from venue to venue to hear/see different performers," said the school district's performing arts supervisor, Jeanne Reynolds, who retired in December.
Some schools have resorted to recording the performances and editing them, and then sending it to friends and family. And some have livestreamed the concerts to an audience.
"While it not ideal, the silver lining has been that we are often able to reach a much larger audience than we would have with traditional performances," Reynolds said.