Return to Headlines
Griffin twins stop in for a surprise visit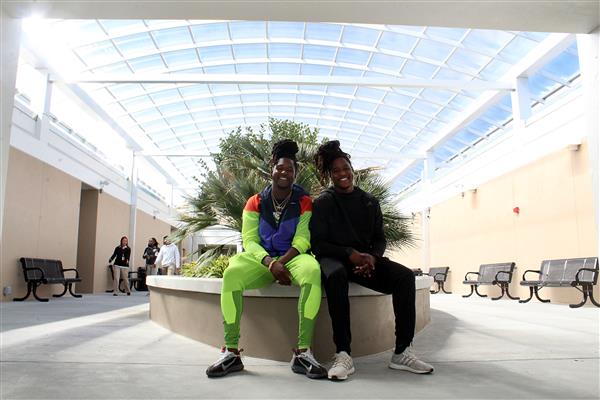 Lakewoof alumni Shaquill Griffin and Shaquem Griffin sit in the new Hub Atrium on March 6. The NFL players took photos and talked to students. "Don't worry about nobody's opinion and don't be afraid of putting in the extra work," Shaquil said. (CAMILA CHERONE | SNN)
By CAMILA CHERONE
SNN Staff Writer
03/06/2019
Wednesday (3/6) seemed like a regular day at Lakewood High School, even quieter than ever since most of the seniors took a college day and the juniors were taking the SAT. Meanwhile in a small meeting in technology teacher Anthony Snead's classroom, NFL players Shaquill and Shaquem Griffin were talking and taking photos with delighted Spartans.
"Just to get the love when you come back, that is something you always wish for," Shaquill said.
Shaquill is a cornerback and his twin Shaquem is a linebacker for the Seattle Seahawks and they both are Lakewood alumni.
"It's an honor to have them come back, especially because so many people leave and never return," Snead said. "Those guys always promised that if they made it, they would try to take care of us."
Spartans crowded the hallways trying to take photos and ask the football players for advice.
"I felt enthusiastic and inspired, because they went to the same school I went to and I can see what I could one day become," freshman Zechariah Wigfall said.
With big smiles, both athletes never hesitated to talk to students, to listen to their concerns and to make sure that everyone was attended to, even when they were bombarded by a big crowd.
"I think that it is really nice how they still come out and check out their roots and where they came from, remembering all the teachers," senior Sara Sulku said. "That was really surprising and cool."
The alumni, who graduated in 2012, were really involved at school, not only playing football and running track but academically as well. After they graduated, they both attended the University of Central Florida.
"We put a lot of work to be where we are. We did everything we could, we worked as hard as possible and the cards play itself," Shaquem said.
Lakewood football coach Cory Moore describes the twins as kind of quiet but respectful young men.
"They were the definition of student athletes," Moore said.
As the Griffins hurried to leave for training, they left a message to all the aspiring athletes.
"Never worry about someone else's opinion," Shaquill said.
"Be humble and always, always give back," Shaquem said.
Click here to visit the slideshow