Return to Headlines
Rising senior racks up the college offers
05/16/2019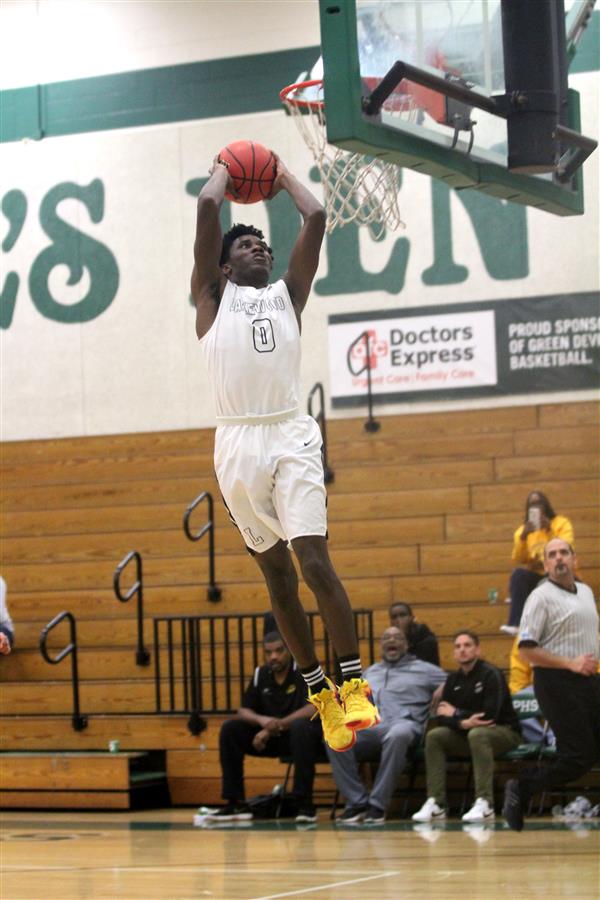 Junior Marques Tampa goes up for a shot during
a game against St. Pete High School in February.
(JONATHAN MYERS | SNN )
BY JONATHAN MYERS
SNN Staff Writer
Marques Tampa, a 6-foot-2, 175-pound athlete in the class of 2020 - better known as TJ for Tampa Junior - is a dual-sport athlete who plays football and basketball and is already getting attention from colleges.
Tampa, who came to Lakewood High School in the middle of his sophomore year, currently holds nine offers in football - University of South Florida, Cincinnati, Coastal Carolina, Illinois State, Iowa State, Liberty University, University of Central Florida, Northern Illinois and Toledo. In basketball he holds two offers - James Madison University and Barry University.
The choice is going to be very hard, Tampa said. If he had to choose between football or basketball, he said right now it would be difficult, because he likes both sports equally.
"I don't like one better, but if I had to choose, it would be football because I have more offers," he said.
TJ's dad, Marques Tampa Sr., who graduated from Lakewood in 1992, also was a two-sport athlete in football and basketball. He said he thinks his son should play hard in both sports and worry about the decision later.
"I've always told him to keep playing both as hard as you can, and the sport will reveal itself to you. I think it has, and I'll leave it there," he said.
Head coach Cory Moore thinks Tampa is a football player "I think personally he is a football player who is an extremely good basketball player. There is definitely a big future with him playing football," Moore said.
Tampa led the team in receiving with 769 yards and was second in touchdowns during the football season, but in basketball he gets recognized for his defense effort.
"He very athletic. He is our best defender. He strong and does a very good job running the team," head basketball coach Anthony Lawrence said.
When school is out in May, Tampa will play in a summer basketball league.
"Right now, he's getting a lot of attention for football. … and we'll see how it works out come this summer with basketball," Lawrence.
His dad said he is a little surprised about his son's success as a junior.
"He did the same thing the year before at his school in Georgia as a sophomore. It just didn't get a lot of attention there because it was a really, small private school (300 students). I knew he would be okay coming to a much bigger school and a football state, but I didn't think he would have the year he had," Marques Tampa Sr. said.