Return to Headlines
8/16/19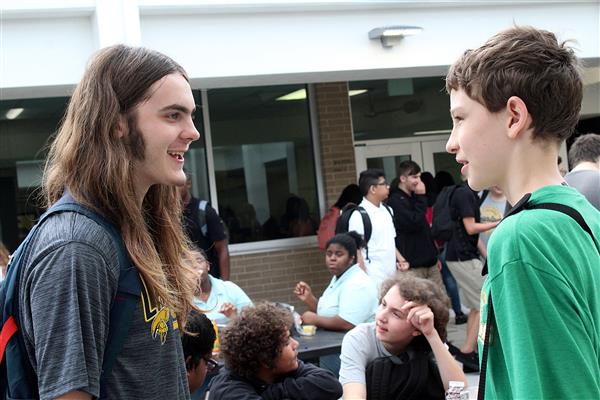 Freshmen Bryan Keister and Christian Sudduth chat in the cafeteria courtyard on the first day of school. (ESSEX POTTS | SNN)
By ANGEL LACLAUSTRA, ESSEX POTTS and JADE MARKS
SNN Staff Writers
With summer finally over, students and teachers alike have started to prepare for another year of hard work at Lakewood High School. Some are leaving Lakewood this year while others have just started their journey.
"The first week has gone fabulously well! From the extremely smooth start at 7:10 a.m. on Wednesday through the first fire drill on Friday. All of our staff members have been working tirelessly ensuring that every student's needs are met and that all feel welcomed," assistant principal Susan Alvaro said.
The first day of school for freshman Aidan Kolar, was "just another day of school to me; it just has older and bigger people." Kolar aspires to be a marine biologist and joined Lakewood to be a part of the AMSET program.
"Out of all the schools, the AMSET program seemed the best option for what I want," Kolar said.
He spent his summer at the beach and had a chance to interact with wildlife in the sea.
"I got to pet dolphins at the Clearwater Marine Aquarium, it was pretty fun," Kolar said.
While some freshmen might be shaking in their boots because of how intimidating high school might seem, freshman Gabriella Goodleigh is not letting it stop her from starting the year with a positive attitude.
"It's not something to be nervous about; it's just school," Goodleigh said.
Shooting for the stars, multiple freshmen have made implicit their intentions to make the Principal's List at least once this year.
"I want to get Principal's List at least once. I want my mom and dad to see it," freshman Campbell Paquette said.
Both incoming students and returning alike noticed the absence of said principal, Erin Savage.
"Ms. Savage had both of her knees replaced over the summer and will return on Aug 26. I have been filling in while she is recovering," Alvaro said.
While freshman are getting used to Lakewood, seniors are preparing to leave the school and make the most of their last year, and guidance clerk James Harper is advising seniors to stay on track.
"Don't get senioritis, always check portal and make sure you have all your credits current. Participate in all your senior activities," Harper said.