Return to Headlines
Blood drive returns to Lakewood
8/26/19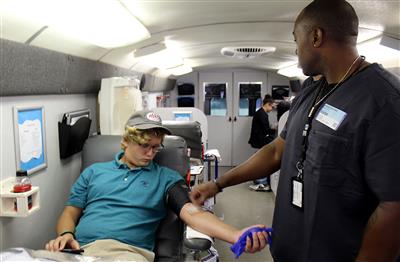 Visitor Bryon Kennedy monitors and draws blood from sophomore Sebastian Adams during the blood drive Aug. 21. Adams' family donates plasma regularly and with a chance to do it at school, he jumped right to the chance. "My family donates plasma, so an opportunity to save lives and be in 10th grade is pretty huge," Adams said.
BY HENRY HAIGHT and ESSEX POTTS
SNN Staff Writers
Lakewood High School opened its doors to students not too long ago, and on Thursday (8/22) the Big Red Bus opened its doors to the population of Lakewood High for the first of many blood drives this school year.
OneBlood and its iconic Big Red Buses are a frequent visitor to Lakewood, pulling in hundreds of students without fail. According to student volunteer Brian Lach, a senior in the CAT Program, 105 students and staff signed up to donate blood.
The front of the school was awash with students, staff and OneBlood employees making sure everything was run properly, and that the students who signed up to donate were compensated properly. Snacks aplenty were available, ranging from cookies and popcorn to Uncrustables and, when lunchtime came around, pepperoni pizza. The pizza was a draw for many, though there were a plethora of other motivations there.
"I came for the cooler, that thing is dope," senior Matthew Poole said
On the contrary, senior Sierra Haas came for a more noble reason.
"I came out to give blood because it's a thing that is needed badly by people in trouble, whether due to trauma or surgery, and it doesn't take much effort for you to give blood that could literally save someone's life," she said.
On the bus, donors are walked through a simple process and given a questionnaire before blood is drawn. Sitting in a chair with one arm on an armrest, each donor gives a pint or so of blood for roughly eight to 10 minutes.
Afterward, the donor is reminded to stay hydrated and eat healthily. While that process may sound simple enough, not everyone has had a perfect procedure.
"I'm pretty sure they missed my vein the first time around because my arm is super sore right now," Poole said
Angela West, account manager at OneBlood and the organizer of the blood drive, has worked with OneBlood for over 12 years.
"I cover St. Petersburg, so schools like Northeast and St. Pete High," West said.
According to West, 20% of all blood collected comes from high schools, and Lakewood High donates the fourth most blood out of all high schools she covers.
"Did you know, I'm a hero? I just saved three-to-four lives today, no biggie." Poole said.