Return to Headlines
Students travel to Galapagos
8/26/19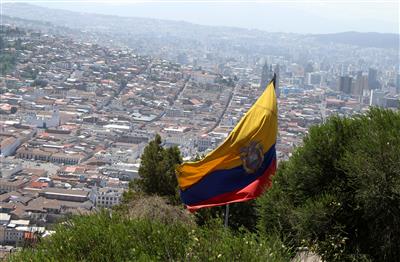 A view of the capital of Ecuador, Quito as seen from a hill side. (JULIANNA RAYMOND | SNN)
BY JULIANNA RAYMOND
SNN Staff Writer
Over the summer, students from Lakewood High School traveled to Ecuador and the Galapagos Islands for seven days.
Some activities the group experienced were snorkeling through a canal and seeing six-foot-long sharks as well as visiting the Charles Darwin Research Station where they got to see the largest giant tortoise sanctuary. They learned the importance of protecting species and how global warming affects the gender of the tortoises, as well as how important it is to keep your environment clean. Students also learned more about Darwin's theory of evolution and how birds in different habitats have different shaped beaks, so they can access the food they need.
"It was something I had dreamed of (for) the 15 years I have been on this earth," sophomore Sharee Young said.
During the trip, which was sponsored by the Lakewood's academy for Acquatic Management Systems and Environmental Technology (AMSET), students also got to experience the local food such as locro soup, a warm soup made from potato and avocado. The soup was often paired with rice and roasted corn.
Aside from food, travelers experienced local activities and night life, such as a concert from a local primary school, a market with street vendors and even a woman from an indigenous tribe who sang and passed out handmade accessories. One of the items offered was a red bracelet to wrap around your wrist that was supposed to ward off negativity.
The price of the trip was $3,509 and included three meals a day, hotel stays as well as flights and boat fare to and from the islands.
"It was an experience of a lifetime and I can now scratch it off my bucket list," Young said.