Return to Headlines
Competitive gaming comes to Lakewood
9/9/19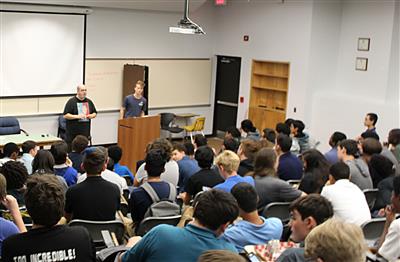 Esports League club sponsor Thomas Penkethman, left, and club president Robert Zachem explain the basics of the club to a group of interested students. The number of potential students was larger than expected, a suprise to Penkethman and Zachem. "It's awesome; everyone should come out," Penkethman said. (Hunter Lovec|SNN)
BY JADE MARKS and HUNTER LOVEC
SNN Staff Writers
A passion for video games is displayed proudly by students at Lakewood. A number of Mario Kart-themed backpacks can be spotted in the hallway, and it doesn't take much searching to find someone playing on a computer or personal device during leisure time. For some, this passion combined with leadership skills inspires schoolwide goals and manifested in sophomore Robert Zachem, who has launched the Lakewood High School esports League.
Zachem began creating the club in the 201819 school year, when his friend, senior Felix Skenderaj, tried to start a similar club. This inspired Zachem to talk to assistant principal Andrew Oyer and to start creating a club constitution, a vital component of the club creation process. It took him most of last school year. On Sept. 9, that culminated in an interest meeting, which filled the Center for Advanced Technologies auditorium during lunch. The number of potential students was larger than expected, a surprise to club sponsor and
math teacher Thomas Penkethman and Zachem
. Reception for the club seemed positive based on the first few meetings, but numbers dwindled to around half of the original, possibly because of the $42 cost to compete in the first two seasons. However, Penkethman said the club has collected enough money to pay for the competition costs, so now anyone can join and anyone can compete. "It's awesome; everyone should come out," Penkethman said.
The club meets in the Center for Advanced Technologies auditorium every Monday, though the actual playing of games will come from the internet capabilities of each individual student from their homes. Supported games include Smash Ultimate, Rocket League, League of Legends and Fortnite. "I thought: 'You know, I'd like to compete against other schools … we could face our rivals in the online landscape,'" Zachem said.

Word got out about the new club to representatives from the county, who came to the first meeting. They are interested in the inclusion of video games in an educational setting and would like to see the expansion of the program to other schools. "You guys are the trailblazers; we're interested in what you are doing. We believe that gaming can enhance the learning experience," school district technology integration coordinator James Wilson said.
Toxicity or foul behavior will not be permitted during school-related gaming activities and will result in action from the school and suspension from the league, assistant principal Andrew Oyer said. "[If] you're toxic in gaming ... if it gets serious enough, we can file a police report," Oyer said.
Senior Mason Hockensmith said he's in the club for the long haul. "I am ready to game," he said excitedly.
*This story was updated with information on club requirements