Return to Headlines
Zen Zones premiere at Lakewood
9/20/19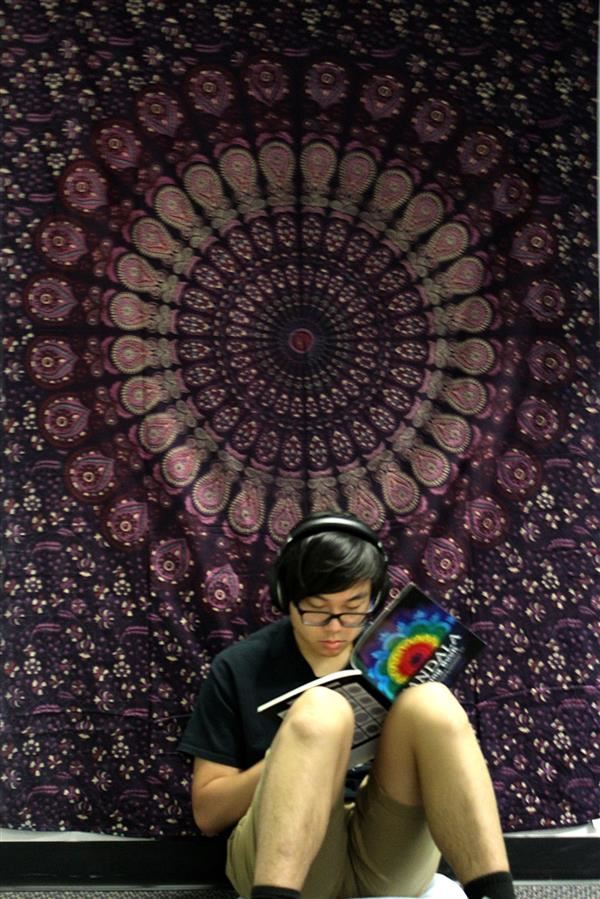 Senior Ben Nguyen tries out the newly installed Zen Zone in digital media teacher Chad Schneider's classroom. He was the first to use the new stress-relief program installed on Sept. 20. "It makes me feel really calm," Nguyen said. (Caitlin Faykus|SNN)
By JADE MARKS
SNN Staff Writer
This story was edited on 9/23, information on the Zen Zone in the media center was added.
Thanks to a partnership between the organizations Kohls Cares for Kids, Johns Hopkins All-Children's Hospital and Lakewood's own Health Squad, a reprieve for student stress called the Zen Zone is making its home in select classrooms.
Noise-canceling headphones, a floor mat, wall decorations, coloring books and stress balls are all included in the package, installed together on Sept. 20 to create a place where students can take a break from the anxiousness often brought up by high school and adolescence in general, for five to 10 minutes at a time.
The zones will be managed by the teachers who run the classroom they are located in. You can find a Zen Zone with Spanish teacher Linda Santiago in B-104, medical skills teacher Erika Miller in room 404, digital media teacher Chad Schneider in C-112, journalism teachers Kathleen Tobin and Jade Shiver in C-100, and in the media center.
The idea came from clinical integration manager Janelle Garcia from Johns Hopkins, who wanted to give students the chance to better all aspects of their health and to teach mindfulness.
"It's the same idea as going to the gym; you exercise, but for your mental health," Johns Hopkins community relations official and exercise physiologist Mallory Carteaux said.
In order to survey how useful the zone is, Carteaux also left behind a pair of anonymous forms, one for the students using the zones, the other for teachers, asking for information such as the reason for the visit and whether it helped or not, along with some other basic information such as grade and age.
"It would have been excellent to have this sort of experience in high school. It's definitely more modern," Carteaux said.
Carteaux also recognizes that there is a stigma behind this sort of self-support system, especially in a high school environment; shaming and poking fun are no strange concepts, so she also wanted to be sure that everyone knew that it's something to do because you want to, not as a punishment. Anyone who feels in need of the zone shouldn't hesitate to take advantage of the services provided.
Changes will be made to the Zen Zones depending on the responses made on the survey sheets, and new supplies can be ordered as needed, leaving space for the zones to grow.
The opinion on day one seems positive, according to the students who were present during the installation process.
"It makes me feel really calm," said senior Ben Nguyen, who tried out the Zen Zone in Schneider's classroom.
- SNN Staff Writer Caitlin Faykus contributed to this story