Return to Headlines
Media Center reinvigorated
10/1/19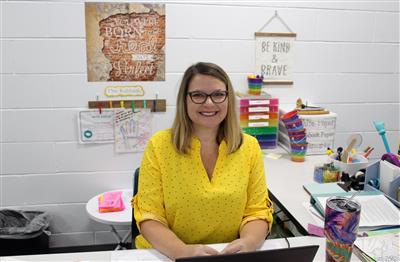 Librarian Heather Robinson sits at her desk in the library on Aug 30. This is her fourth year as a librarian."I'm excited about creating a welcoming, inviting atmosphere," she said. (Emma Collins|SNN)
By MAYA RISH
SNN Staff Writer
The space flows in a way it didn't before, the atmosphere inviting and calm. Comfortable chairs and eye-catching artwork create a dynamic workspace that draws students in. Several people are scattered around the space, studying, working on the computers, or simply enjoying the spot.
Lakewood's Media Center is undergoing some exciting changes. At the forefront of the action, is new media specialist Heather Robinson, hired to rejuvenate the under-used library.
"(I'm) excited and ready for the new opportunity," Robinson said.
Having worked in Florida schools for the past 20 years, Robinson has quite a diverse background. An instructional teacher for four years, a third grade teacher for 12 years, and a librarian/ media specialist for another four, this isn't her first rodeo. Combined with her previous teaching experience, love for books and desire to create an active learning space, Robinson has begun to spearhead the visible changes in one of our community's biggest assets; the Media Center.
"(I'm) excited about creating a welcoming, inviting atmosphere," she said. "I looked at it like a blank slate".
One of the more significant changes includes a finally working library. In recent years, books lined shelves in a section of the media center that was rarely used. Closed off and secluded, not a single student had checked out a book in the past three years. Now, novels and nonfiction titles sit on display throughout the area.
However, books in print are not the only ones available for check out. Now, using a pcsb account, through Clever, students have access to Sora, an online way to read, do research and listen to audio books. They can borrow thousands of books from the Sora archives, or from the public library, all on a mobile device or computer.
Sophomore De'stiny Wise was the first one to get in on the action, being the first student to check out a book from the Media Center in the past few years.When she heard that she was able to check out books, she thought,
"Oh finally, because I don't have time to go to the public library anymore".
But books aren't the only new additions. For the first time, students will now be able to eat lunch in the Media Center's small cafe. Seniors have access on Mondays and Fridays. Juniors, Tuesdays. Sophomores are Wednesdays, and Freshman on Thursdays.
Other updates include a makerspace, filled with creative supplies and relaxing coloring sheets. There are board games, puzzles, and decorations all over the room. In the future, a zen zone, an area where students can go to chill out will be available, along with other forms of new technology. Photographs from students in the Center for Journalism and Multimedia are displayed on the walls along with hand-drawn illustrations of book genres.
"The library should reflect what our students look like and should reflect out students work," Robinson said.