Return to Headlines
10/1/19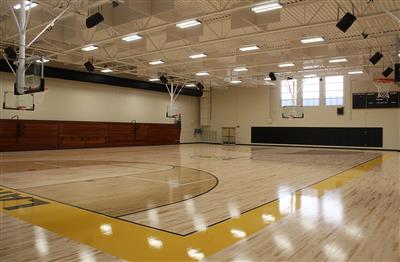 A year in a half later the gym is back and looks better then ever. The new gym features a new floor, new goals, new ceiling/walls, and new scoreboards. (Oteman Delancy|SNN)
By ROHEY BARROW and O'MRION FLOWERS
SNN Staff Writers
After a year and a half of construction, the Lakewood High School gym has finally opened, which means that students who have been learning about physical health from a textbook can finally put their knowledge to the test. It officially opened to students and teachers on Aug 26.
"Overall, I'm happy with the project," principal Erin Savage said.
The work on the gym includes the weight room, the wrestling room and the new entrance, lobby and concession stand. This project was just part of a larger renovation of the school. In addition, the hub, the auditorium and the media center were refurbished. New furniture and benches were placed around the school. New windows and doors were installed, and the lobby area in front of the school was rebuilt.
The rules for the new gym floor are that there will be no high heels or hard-bottomed shoes, only shoes with a rubber sole.
"We did not take good care of the (old) floor, so now that we have a brand-new floor we want to make sure we take care of it," Savage said.
The people most affected when the gym was closed for renovations were the basketball team. They had to move around from school to school to play their home games.
"It's going to be nice to have the gym back," senior basketball player Ivan Rimoli said. "It was really difficult to get around and coordinate things."
The gym was supposed to open in May of 2018, but a fire caused by the construction set back the opening day.
"I don't think it's worth over a year and a half, but it looks at least presentable," Rimoli said.
The basketball team was forced to work out at places like Lake Vista, Roberts Community Center, Thurgood Marshall Fundamental Middle School and Wildwood Recreation Center, now the Thomas "Jet" Jackson Recreation Center.
"Our team was really resilient last year and so I think it kind of hurt us in a way, but it also helped us, too, because our guys were tough. We went to the state finals," basketball coach Anthony Lawrence said.
Although, the construction went longer than anticipated the gym is finally being put to use.
"The team loves it. Now we don't have to transport kids all over the place we can go to the gym right after school," he said.
Though the gym is finished, the construction work at Lakewood High is still not completely done.
Superintendent Michael Grego visited the school last year and asked Savage to make a wish list for other things that can be done to the school to make it look better.
"My administrative team and I are getting together and starting to go and look at different areas that we would like to see renovated," Savage said. "Teachers can give us things (for the wish list), because they see things that are in the classrooms and the hallways, but right now it's just administration."