Return to Headlines
10/22/19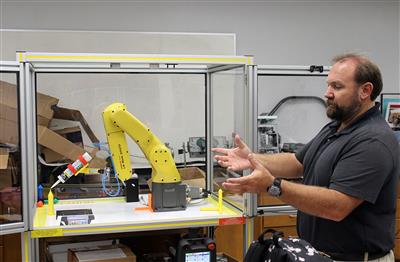 Robotics teacher Jason Ness explains the new robot called FANUC Aug. 30 in the robotics room. FANUC will be used by the seniors for their experiments. "It's a powerful robot and a fast robot," Ness said. (ROBERT ZACHEM|SNN)

BY RAY LAND AND JUSTIN GOFFE
SNN Staff Writers

Out with the old and in with the new is a frequently used saying, though it is rarely ever taken in a literal sense. But now, the once cluttered, rustic and dirty T-wing room is getting a new look. The brown walls have been painted a bright grey, and old lab tables and equipment have been replaced with a new computer lab and robotic work benches.

"The plan was from 10 years ago," said CAT assistant principal Andrew Oyer.

Even before Oyer had set foot in the building, the administration had agreed that once physics teacher Paul Dickman retired, the room would go to the robotics teacher. Now with Dickman gone, that plan is a reality. The plans for the renovation were completed last spring, and all summer staff and community officials were hard at work moving tables, disposing of chemicals and otherwise cleaning up the massive room. "I can't even begin to describe how much stuff was in there," Oyer said.

The room is unique at Lakewood because of how large it is and because it has its own staircase to the second floor. According to Oyer, if it were to be destroyed it would never be built again due to its size. To furnish the room, Oyer had to get a School Board architect to measure the room, come up with a budget and choose the furniture. All of this was done to expand the robotics courses.

"I think the room is a good fit for robotics," teacher Jason Ness said. Ness' classes will be moved into that room as soon as everything is moved from his A-wing classrooms, which will then probably house the biology teachers. This new room is both a lab and a classroom and will house a new bright yellow piece of CAT technology no other school in the county has. The FANUC robot, a robot you would usually see in a factory today, is designed to move and hold positions with great precision. FANUC is programmed by a hand-held program called KAREL and object coded to hold and save certain positions to a database. Technology like this is usually used for assembling cars.

"It's a powerful robot and a fast robot," Ness said.

The process of getting the FANUC robot on campus involved a four-day training for certifications to prove Ness could work the robot properly. He also had to upload a video of himself working a robot to become certified. Ness, however, will not be programming this robot. CAT seniors will be programming it using a new senior workbench in the new room. This experience could then lead to jobs right out of high school for these seniors if they choose to work with it. Oyer said he hopes to expand the robotics program even more, and he believes these renovations will be just the push it needs. Students have expressed excitement about the new room, most having seen the progress through the windows.

"I think it's definitely going to be nice," CAT senior Talib Moran said.