Return to Headlines
New Lakewood tradition: Tailgating Fridays
10/23/19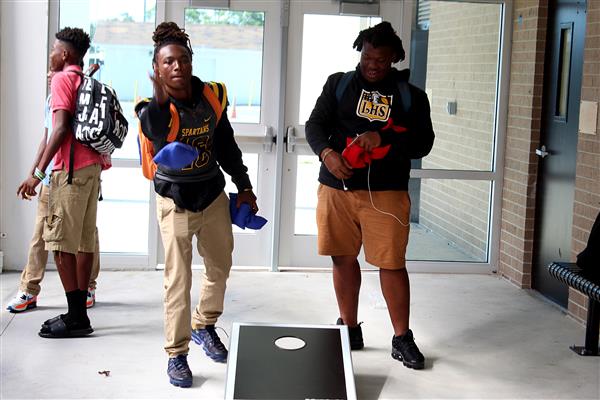 Sophomore Camari Berry throws a bean bag on Aug. 30 at the ALMA tailgate on lunch break in front of the cafeteria. Health teacher Erika Miller created this activity because she thought students needed something fun to do for the 30- minute break. (ANGELINE BEARD|SNN)

BY JESSICA FREEMAN
SNN Staff Writer
It's lunch time, and as usual people are eating and spending time with their friends. Near the gym, however, a large crowd of students is yelling, cheering and playing games. Students and staff are bonding as music plays and they compete at ring toss, bean bag toss and cornhole. With the school newly renovated, there are a lot of changes at Lakewood High School, and one of them is Tailgating Friday.

Tailgating Friday is an event with multiple activities for all students to enjoy that takes place in front of the gym on Fridays when the football team plays at home. Medical skills teacher Erika Miller said she came up with the idea because she wanted to build school spirit and offer a fun way for students and staff to bond.

"It can create a fun way to mingle together, create fun activities and to just have a fun time," she said.

Tailgating Friday usually has about eight different activities, but that can vary depending on the number of people who show up. The activities include cornhole, ring toss, can jam, spike ball, ladder golf, giant Jenga, bean bag toss and Connect 4. Tailgating Friday is starting off only during football season, but it could continue beyond the fall.

"We would love as many people as possible to be there," Miller said.

Miller doesn't plan Tailgating Friday by herself. Health Squad students help her plan the event, including sophomore Montrea Griffen. Griffen is a part of Health Squad and said she enjoys helping Miller plan.

"There are different things I get to do, and I like to see people have fun," she said.

Senior An' Darias Wilson participated in the first Tailgating Friday. He said he likes playing the games and spending time with friends. "It is game day and I want to have fun," he said.

As of Oct. 11, five Tailgating Fridays have been hosted successfully. Griffen said she encourages others to join in on Tailgating Friday, especially the freshmen. She likes encouraging kids because she said she thinks the activities the Health Squad students do can bring others out of their shell. "We are a team, we are a family," she said.