Return to Headlines
Museum event corrects local history
12/4/19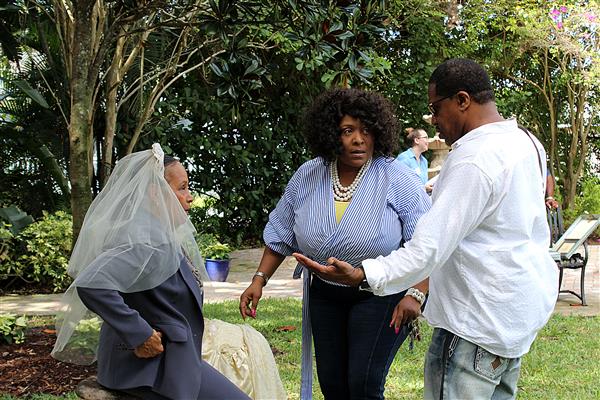 From left attendees Janice Jackson, Rene Flowers, and Times deputy of Photography Boyzell Hosey get ready to take a photo on Nov. 9. Jackson heard about the event in October when she visited the Woodson Museum. (EMMA COLLINS|SNN)
By CYNTHIA LAWSON AND JULIANNA RAYMOND
SNN Staff Writers
For African Americans in St Petersburg in the 1950s and '60s, opportunities were limited. Segregation was a factor. Janice Ayer Jackson, born in 1949, grew up in a highly segregated and circumscribed community. Despite all the isolation, she said they grew up with a "tremendous sense of community."
"Everybody has their own 'back-in-the-day.' For the most part everybody got along. Everybody looked out for everybody, and everybody's parents looked out for even more than their children. They looked out for everybody's children," she said.
Jackson, who now lives in Georgia, went to the Dr. Carter G. Woodson African American Museum for its Black History Preservation Drive on Nov. 9 to share her history growing up in St. Petersburg. She said she heard about the event three weeks ago and then saw it on Facebook and knew that she needed to come.
"Growing up here was so special," Jackson said. "Even though we knew … we didn't have the equal rights, it was a good time."
The goal of the preservation drive, which lasted from 10 a.m. to 5 p.m., was to find out more information about African-American history in St. Petersburg and to spread awareness about the African-American community.
Residents attended the event and were interviewed about their childhood stories in the city. They also brought in photographs and memorabilia to be copied and archived.
The event was a collaboration between the African-American Heritage Association, the Dr. Carter G. Woodson African American Museum, the Tampa Bay Times, The Weekly Challenger, the University of South Florida's Neighborhood News Bureau and Lakewood High School's Center for Journalism and Multimedia.
Bernardo Motta, an assistant professor of theory and community journalism at the University of South Florida-St. Petersburg, was involved in creating the event.
"(It) started with my research for the university looking at the local African-American history (and) noticing that there are a lot of gaps. Most of the information was scattered in different places and a lot of information was just missing," Motta said.
The stories and photos that were collected will be published in the Tampa Bay Times, Weekly Challenger and the Neighborhood News Bureau, as well as noted on the African-American Heritage Trail. The end goal is a documentary, Motta said.
The event was free to anyone who wanted to attend while telling their story.
Several stations were set up inside the museum and in the large garden behind the building.
At one station, a Times photojournalist copied photos and memorabilia brought in by those who attended. Two other stations were run by journalists who recorded residents' stories, and a portrait station was run by Times deputy editor of photography Boyzell Hosey where people could get their photo taken.
"There are so many untold stories that we need to know," Hosey said. "(We had to) find out what untold stories are out there so that we could tell these stories."
One visitor to the event was Nicole Presley, 48. Though she did not grow up in St. Petersburg she moved here two years ago. Presley said she came to the event because she has a passion for finding the truth about her heritage. Her grandfather identified as African American, but she has white skin.
"The museum is what I'm all about. Anything that has to do with searching for truth and telling the story the way it really happened is kind of my mission." Presley said.
Helping at the event was undergraduate reporter Erica Vilkus from the Neighborhood News Bureau at USF.
"This area has historically been under-represented and inaccurately represented in the media," Vilkus said. "So, it's important for us to go back and record history."