Return to Headlines
12/14/19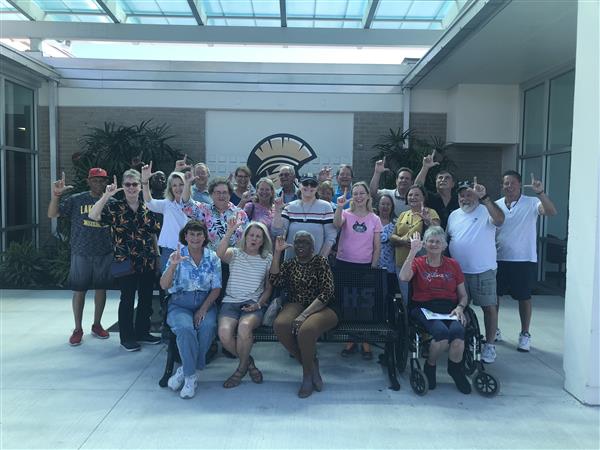 Lakewood alumni from the Class of 1969 stand in front of the school holding up an "L" sign. The class returned to Lakewood as part of their 50th-year reunion, and enjoyed a tour of the newly renovated school. (SPECIAL TO SNN)

BY O'MRION FLOWERS
SNN Staff Writer
Lakewood principal Erin Savage hosted members of the Class of 1969 for a 50-year reunion tour of the newly renovated school on Oct. 11.
"I was a little apprehensive when they told me it was their 50th year, ... I was, like, oh my goodness, how are they going to be?" she said.
But the tour, which she thought would be about 20 minutes, took more than an hour because the classmates were enjoying themselves so much.
"They were laughing, they were joking, they wanted to see the band room because a number of them were in the band or had band as a class," Savage said.
Savage said she was particularly worried about how they would react because she was a woman.
"I'm sure their principal was a man, so me being a woman, I wondered how they would react, but they were nice and appreciative of my time," she said.
There were about 25 people who attended the Lakewood tour, including a few staff members. Savage said they remembered a lot about their old school but were surprised to see all the renovations. One place that had been redone was the back of the gym.
"They remembered smoking cigarettes in the back of the gym back then," Savage said. "There was just a lot of reminiscing."
Later that evening, the group had dinner at the Ringside Café and on Oct. 12 they gathered at the St. Petersburg Shuffleboard Club for dinner and live music.