Return to Headlines
12/17/2019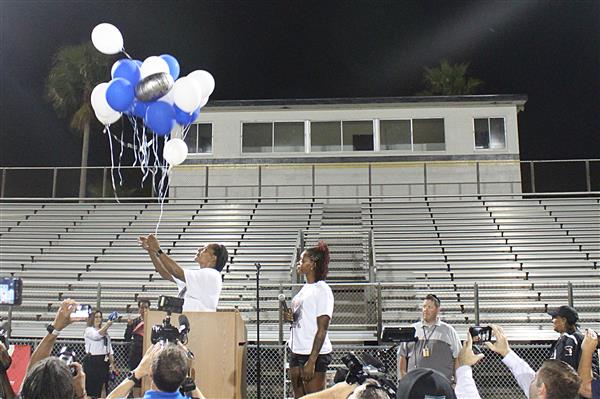 Evelyn Brady, Mohammed Haitham's mother, releases balloons at the
vigil Monday night for her son who was killed at the Pensacola Naval
Air Station on Dec. 6. Haithem was a 2018 graduate of Lakewood High
School. (NICHOLAS MADOLE | SNN)
By JULIANNA RAYMOND and BRANDEN COOPER
SNN Staff Writers


After the death of former Lakewood student Mohammed Haitham, Lakewood hosted a vigil Monday evening (12/16) on the football field to pay respects and share memories of him.
Students, staff, family and friends gathered with lighted candles and walked two laps around the track. Then Haitham's mom, Evelyn Brady, released 20 white and blue balloons to symbolize his 20 years of life.
"We all shouted, 'Happy Birthday' and that almost made me cry," his cousin, senior Monica Maxey, said.
Medical skills teacher Erika Miller helped to organize the event.
"I wanted to help ... because Mohammed was such an incredible student athlete and a person," Miller said.
Haitham graduated in 2018 and was set to graduate from flight school this month. He was shot by a visiting student at the Pensacola Naval Air Station. Haitham was known as a track star around Lakewood.
"He came out for the track team and was a guy who really helped us out and made the way," said track coach Anthony Snead, who led the crowd in prayer.
Maxey and others wore t-shirts to the vigil honoring Mo.
"I felt very touched, appreciative of everyone that came out to support our family in these hard times," Maxey said.
For a multimedia story of the candle light vigil for Haitham click here.