Return to Headlines
2/5/2020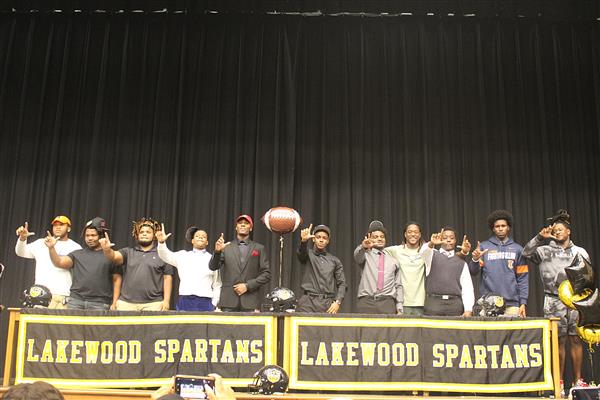 From left, Tre'von Riggins, A'ndarius Wilson, Zyquavious Scruggs, Samari Smith, Marques "TJ" Tampa, Derrel Kelley, Aubray Chevannes, Shaquill Griffin, Jordan Brown, Gregory Spann, Shaquem Griffin hold up L's after seven Spartan football players commited to colleges on Feb. 5. (TAVEON WHEELER | SNN)
By MAYA RISH and TAVEON WHEELER
SNN Staff Writer
Seven Lakewood High School athletes received scholarships and signed Wednesday to play college football.
The athletes included Samari Smith (New Mexico University), An'darius "Tank" Wilson (New Mexico University), Aubray Chevannes (Morehouse College and Georgia Tech), TJ Tampa (Iowa State University), Jordan Brown (Florida Memorial University), Derrel Kelley III (Tarleton State) and Zyquavious Scruggs (Rochester Community College).
"I'm super excited about the guys moving on to the next level. To watch them grow up and transition to the next level, I'm so excited. I'm just happy for them," said head football coach Cory Moore.
The boys sat on the Lakewood Auditorium stage, shoulder to shoulder, as Moore introduced them. One by one, they came up to thank friends and family and announced the college they will attend. The marching Spartans were there to help in the celebration and wish the boys the best .
"Thank you to my loving family for always staying on me," senior Kelly said.
"Thanks to all my coaches for never letting me quit," said senior Jordan Brown
Lakewood alumni Shaquem and Shaquill Griffin, who graduated in 2013 and now play for the Seattle Seahawks, were in attendance, there to support the upcoming college players, and give useful advice to the boys as they move on.
"Keep your mind right. Keep working. Keep grinding," Shaquem Griffin said.
"Don't forget to enjoy this time," said his brother, Shaquill Griffin.
Family members were also in attendance and were very excited and optimistic for their sons.
"I feel great. I'm trying to hold up, not crying," said Yolanda Garrett, Wilson's mom. "He came a long way from a freshman. He wasn't really doing right, but by 11thgrade he was on the right track, because he knew what he wanted, and he knew he had to get it right to get to college. … God listened. He's working it out for him."
"It's great. My other grandson went here, and he plays pro for the Packers … Marquez Valdez Scantling. I'm real excited about him. I'm glad it's not just football. He has the academics," said Mila Scantling Holmes, Chevannes' grandmother.
Fernando Maynor, Brown's father said he is very proud of his son, who wants to go into sports medicine.
"To have that honor, to have someone see enough in him as a football player as well to make him a student athlete. It's a life changer," Maynor said.