Return to Headlines
2/21/20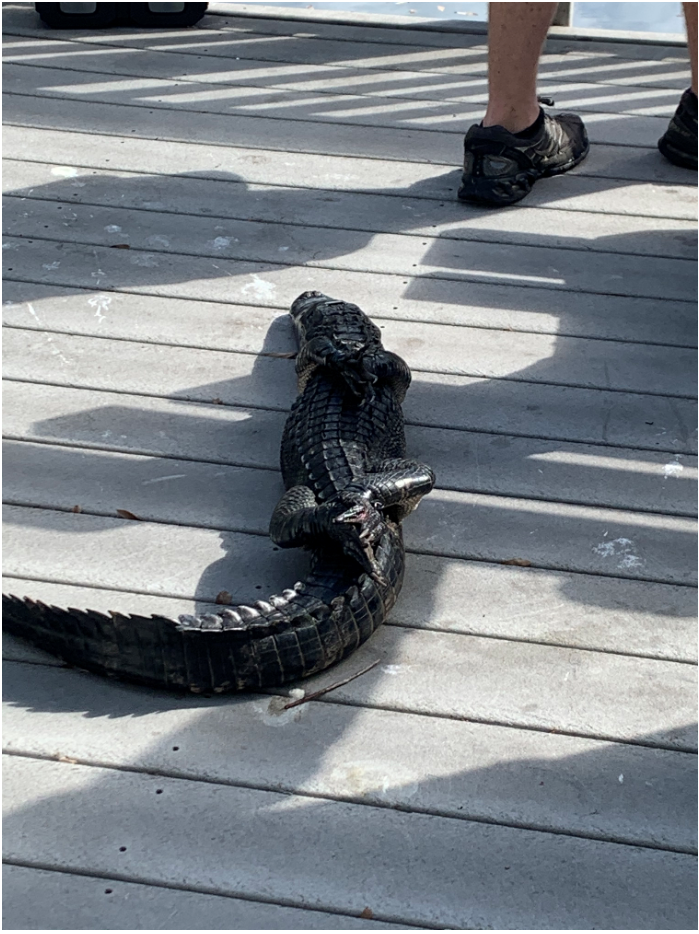 The alligator Jose is no longer a part of AMSET's Outdoor Classroom ecosystem. The four-and-a-half-foot gator spent its last day in the ODC eating tadpoles and blue gill fish that lived in the retention pond.
Two officials from the Florida Fish and Wildlife set up bait and trapped the gator, Jan. 11. The Florida fish and wildlife operator set up bait and along the ODC dock and caught the reptile in a large net.
On Jan. 2nd Cafeteria manager Kim Griffin, arrived at school to check on the chickens behind held in the ODC, and when she walked towards the chicken coop, there were no chickens.
Instead it was the welcoming of a juvenile gator looking for a snack during the start of winter. The gator had come ashore to the hen house and chewed a hole through the chicken wire at the bottom of the house.
The two chickens, a rooster named Lenny and a hen named Agnas, had escaped through the hole made, and left wondering through the wilderness of the ODC. "The chickens were out of the coop and running around," Griffin said.
In the process of capturing the gator, and for the safety of the wildlife official, the alligator's limbs were tied behind its back. This is because a crocodile's greatest strength is not its endurance and stamina on land, but it's ability to launch a surprise attack when you're least expecting it.
"It was bizarre," said. "They came in with a box that made a cracking noise, then he threw a line out to bait the gator and after that wrapped the gator in a net off the dock and tied its legs behind its body."