Return to Headlines
3/11/20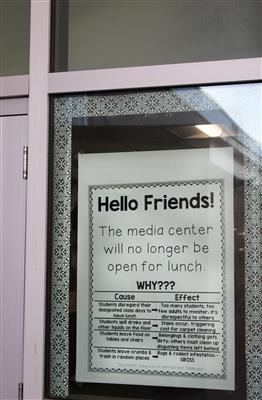 A sign posted on the window of the media center informs students of the reason the library is now closed for lunch. (TREVAUGHN CURRINGTON|SNN)
By ROHEY BARROW
SNN Staff Writer
Many students weren't happy when the wings closed for lunch, so they quickly took advantage of the library when new media specialist Heather Robinson opened it during lunch at the beginning of the school year. It officially closed in early February, however, with a sign posted in the window explaining why.
"I think it closed because people took advantage of her kindness," junior Alicia Rogers said.
Robinson said she opened the library for lunch because she wanted it to be a welcoming and inviting environment where she and the students could get to know each other because it's her first year at Lakewood.
"It was a lot of fun. Students were excited to have another space to eat lunch," Robinson said.
It started off slow but once more people started to learn it was open, it became a popular spot during lunch. So Robinson then created designated days for certain grade levels.
"I did class days in order to avoid having too many students in the library. I wanted to divide things up by day," she said.
Seniors were allowed in on Mondays and Fridays, juniors on Tuesdays, sophomores on Wednesdays and freshmen on Thursdays.
"I used to eat lunch in here on junior day and sometimes on senior days and when she didn't check," junior Robert Hopkins said.
Robinson often found herself monitoring the door the whole lunch period, which defeated the whole purpose of the library being open in the first place.
"It's only me in the library. I'm the only adult so if I had 200 kids in here it would not be very wise," she said.
Many factors led to the official closing of the media center, including broken chairs and trash being left around.
"She doesn't have the time to go through and clean up and get the smashed ketchup packets," assistant principal Andrew Oyer said.
The large number of students in there was concerning to administration.
"One day there was a pretty large crowd in there, and it wasn't clear who was supposed to be in there or not based on their grade level, so the administration team and school resource officers (SRO's) discussed it and closed it again," Oyer said.
There are only seven adults who can monitor students during lunch, and they already have assigned stations throughout the school.
"We can't ask extra teachers to help Mrs. Robinson, because they have to eat. She was doing that out of her own kindness and wanting to welcome everybody in," he said.
Now that the media center is closed, students must eat outside or in the cafeteria and the library is exclusive to teacher-sponsored events and clubs during lunch.
"I want it to open again because it's nice to have a peaceful spot because usually there's not enough seating for everyone, so most people are standing," Rogers said.
Although students are disappointed with it closing some understand why it had to be done.
"I'm sorry for the other kids' behavior and the people who were taking advantage, because that sucks and she was really nice and really open and last year we didn't have this," she said.