Return to Headlines
'I'm leaving at the right time'
3/11/2020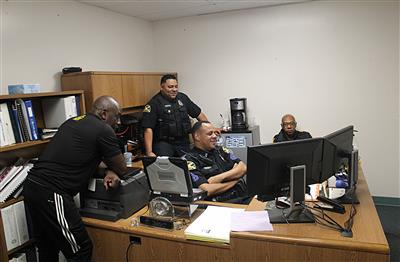 From left, campus monitor Greg Hinton, school resource officers Eduardo Rivera and Lerric Boyd and campus monitor John Darby watch a retirement tribute video of Boyd on his last day. (O'MRION FLOWERS|SNN)
By TORRY JONES AND O'MRION FLOWERS
SNN Staff Writers
After 31 years School Resource Officer Lerric Boyd has decided to hand in the badge. Boyd worked as an SRO for Lakewood for 11 years.
"I feel good about it. I put in 31 years and two months, so I feel as though I'm leaving at the right time," Boyd said.
Boyd was a person to learn from and a role model at school and at the police department, Officer Eduardo Rivera said.
"I feel sad. Officer Boyd is considered a legend at the police department," Rivera said.
Boyd's family wasn't too happy about him deciding to be a cop, but they are 'happy to see him retire.
"My family feels very good about it, especially my mom. She never wanted me to be a cop in the first place, so seeing the start of it and being able to see the end of it is awesome to her because that's what she wanted," Boyd said.
Boyd's daily routine consists of getting up at 5 a.m. and sometimes working until 11 or 12 at night.
"He's going to be a big loss for myself and the police department due to all his knowledge and experience," said Rivera, who has known Boyd for 12 years.
The department is still trying to figure out who's going to be the right candidate to be the next SRO at Lakewood to take Boyd's spot.
"I'm looking forward to our new SRO who will be taking over (after) Boyd's departure. I am very excited to build a very strong professional relationship with the head charge SRO who's taking over and the things that he's bringing, his own imprint to Lakewood High School," Hall Monitor Greg Hinton said.
Hinton has worked with Officer Boyd for 11 years and he says he hopes to build a good professional relationship with the new SRO like he did with Officer Boyd while being here.
Boyd's time at Lakewood has not always been the best, there's been good times and bad times.
Boyd's scariest moment was eight years ago when gang violence was "really bad" at Lakewood. Boyd was in the bus circle when everything "broke lose."
"We were chasing people, but we ended up arresting everybody and getting people out the school," Boyd said.
Boyd said that when he came here in 2009 it was "really really bad" as far as the gang activity. "but with the team of folks we have here with Mr. Darby and Hinton came in (2010) we have a great team," Boyd said.
Boyd's most memorable moment was when a young lady left a suicide note in the girl's bathroom on a Friday. He didn't know who wrote the note at the time, so they were very concerned about who wrote it.
They checked cameras to see who was in the bathroom at the time and found a suspicion for one of the girls they saw on camera.
so, they went to the teacher of the young lady's class and she said one of her students were gone for quite a minute out to the restroom.
they compared the writing on the suicide note to the some of her classwork and the writing was a match.
They found out that the girl's mother had just passed, and she was going through a hard time.
"this girl was going through a horrible situation," Boyd said.
So, once they figured out who it was, they talked to the family.
"the whole family was in distress," Boyd said.
It was around Christmas time Boyd, the St. Petersburg Police Department and Lakewood staff gave them a $500 gift certificate along with some gifts from Target.
"the whole thing was just memorable and outstanding," Boyd said.
Boyd ended his 31- year police career at Lakewood on February 18th and his retirement is February 15th .
"I felt very good about my time at Lakewood, I really enjoyed it, because Lakewood is like a family, you come here every day and you see the same people, so you get a chance to bond with the students and the staff, it's something I've always enjoyed, I'm definitely going to miss that part of it," Boyd said.