Return to Headlines
Spartans join countrywide Unity Walk
3/11/20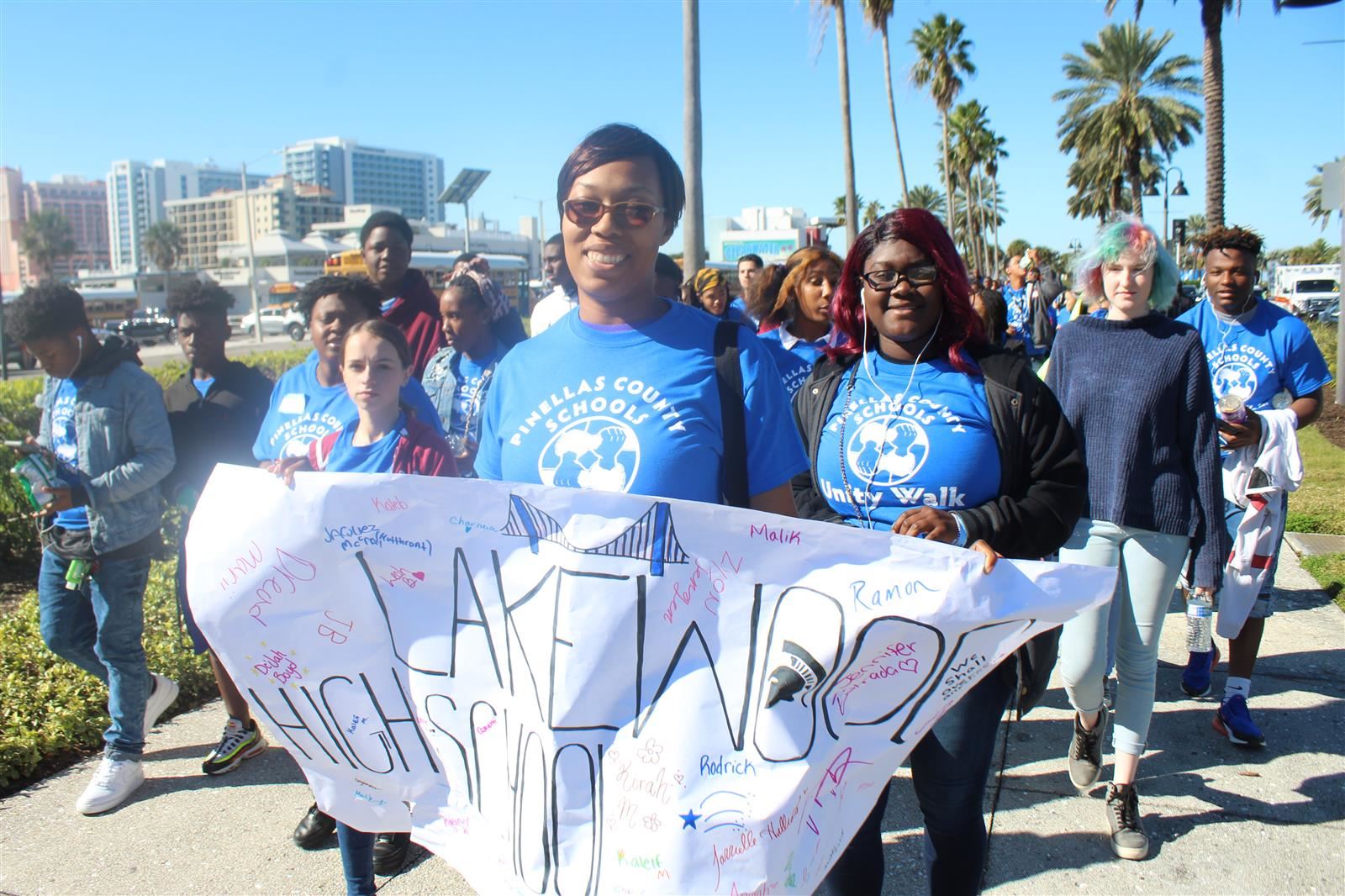 Assistant principal Tequena Akintonde holds a sign to represent the Lakewood students during the Unity Walk in Clearwater in Jan. 28. (VANESSA NATAL|ALPHA_OMEGA)
By LEAH BROADNAX
SNN Staff Writer
About 40 Lakewood students joined the first ever Unity Walk on Jan. 28, an event organized by the freedom ambassadors of Clearwater High School. Students from all 17 high schools in Pinellas County came together to share experiences and knowledge and then walk across the Causeway Bridge with all the students singing and chanting.
The message was that there is a way for young people to make a difference and to voice their opinions without getting physical.
"People can be powerful by coming together. You don't have to commit violence to get your point across," said junior Raz Tafari, who participated in the walk.
School Board vice chairperson Eileen M. Long spoke at the event.
"We want to recognize people that have stood for equality in human rights. We will celebrate their impact and how far they have come and to inspire and continue the work of the next generation," she said.
The students gathered at Clearwater High around 11 a.m. to listen to Lynda Blackmon Lowery, 69, an African-American woman who was the youngest person to walk across Edmund Pettus Bridge from Selma to Montgomery in March 1965. Lowery, who graduated from Clearwater High School, told the students that she was proud of them and that the future is theirs to control.
"Children have the power to change the world, not adults," said Lowery, who went to jail nine times and wrote a book called Turning 15 on the Road to Freedom. "You're in a fight for humanity that's not just the people in Florida or the people in the united states you're fighting all over the world just for this, for us to come together on one accord and that our voices be heard."
Pinellas County school superintendent Michael Grego and School Board chairperson Rene Flowers also attended.
Clearwater mayor George Cretekos met the students at the end of the walk to not only congratulate them but to proclaim Jan. 28 to be Unity Walk Day in Clearwater.
"The unity walk will leave a lasting impression on the importance of civil rights and respecting the individual no matter who the person is," Cretekos said.