Return to Headlines
Law means that students will get mental health lessons
3/11/20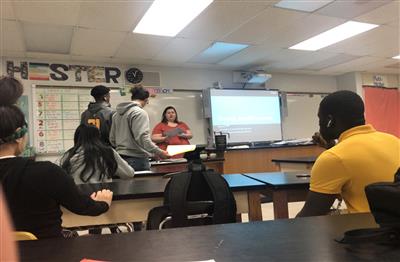 Math teacher Ruth Hester teaches her class one of the mental health lessons in February that are required by the state.
BY TREVUAGHN CURRINGTON
SNN Staff Writer
By now students should have been taught three lessons about mental health awareness from their first block teachers.
The lessons started at Lakewood because of a new state mandate that requires schools to provide at least five hours of mandatory mental health awareness instruction to students in grades 6-12. The lessons focus on recognizing signs of mental health problems, suicide prevention and substance abuse, according to Lakewood social worker Erica Dickerson.
"These lessons are developed with licensed mental health professionals and district staff certified in health education," Dickerson said.
Mental health among teens has become an important issue, especially as the second leading cause of death in teens is suicide, according to the Centers for Disease Control. One in five young people have a mental illness, which is about 20% of the national population.
By the end of the school year, students should get a total of six lessons. A random survey taken by SNN showed out of 84 students at Lakewood, 45 have had one of the mental health lessons so far this year, while the other 39 said they had never had one.
At the end of class students complete an "exit ticket," which offers students an opportunity to speak with a member of the school staff about any concerns or issues they may have.
"On average about 10 students ask to speak with a mental health professional after each lesson," Dickerson said.
Once the exit ticket is received, either school psychologist Dr. Brett Stone or Dickerson will call the student down and talk with them. They end up seeing some students on a regular basis for counseling. In other cases, Dickerson said, they will speak to their parents and help to set them up with counseling in the community.
Student have had mixed reactions about the lessons. Some think that the lessons are useful and wish other students would appreciate them.
"I take them seriously, and others should take them seriously because mental health is a real issue in the world today," junior Charneice Ford said.
The goal of the presentations is to help students recognize the signs and symptoms of mental health disorders and learn coping techniques. But that's not the only thing administrators hope will come of the lessons.
"We would also like to reduce the stigma around mental health disorders and bring awareness of resources that are available, not only here at Lakewood, but also in our community," Dickerson said.