Return to Headlines
3/11/20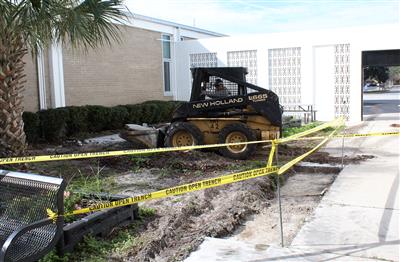 A front-end loader driven by a school maitenence worker clears the plot of land that was once used by the Garden Club. The land was cleared because it posed drainage issues and laso because the school was cleaning up the area in preparation for a school board meeting held on campus on Feb. 25.
By YURI DEJESUS
SNN Staff Writer
In late January, a front-end loader leveled the garden between the media center and the CAT building. Workers from the school district pulled out all the vegetation, including an ice cream vanilla bean tree, avocado tree and a plum tree.
Now crushed shell covers the area.
Assistant principal Andrew Oyer said the renovations were done to take care of drainage issues that made water just sit there when it rained.
"The surface was uneven, and the mulch and dirt built up, causing drainage problems over time," Oyer said.
The district and administrators decided to level out the garden and lower it by 3-4 inches to ground level so that when it rains it drains well. In addition, county workers put in news sidewalks surrounding the garden.
"That would make sure that it was a safe flat surface to walk on," Oyer said.
Principal Erin Savage said the work also was done because the school wanted to spruce up the campus when Lakewood hosted the Pinellas County School Board meeting on Feb. 25. In addition to the renovation of the garden, workers power washed the floors, reglazed the bathrooms and placed crush shell outside media teacher Chad Schneider's room as well as on the beds in the front of the school.
"The garden looked a little bit uncared for," Savage said.
Both Savage and Oyer said the garden, which was built by the Garden Club in 2017, would eventually be rebuilt on the school side of the fence, adjacent to the water supply between the tennis courts and the Outdoor Classroom.
Cafeteria manager and Garden Club sponsor Kim Griffin said the plot grew romaine, kale, cabbages, squash, peppers, tomatoes and many more vegetables and herbs. In the summer, it grew basil, parsley oregano, rosemary and sage. She said she used some of the food in the garden in the cafeteria.
"Pretty much everything you would get at a grocery store that's not real sensitive to weather, we grow it," Griffin said.
Garden Club members, who took care of the garden, were unaware that it would be removed. Members found out a week before it was leveled.
"I was sad, honestly," senior and Garden Club member Nazerena Scott said. "It was a lot of hard work to do."