Return to Headlines
Lots of drama in Drama Club
3/12/20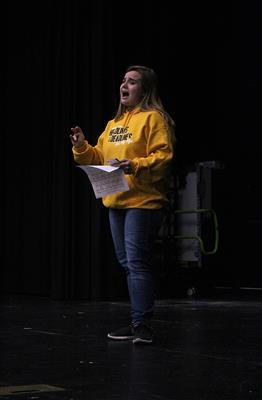 Senior Caitlin Faykus auditions on Jan. 24 in the Lakewood auditorium for the spring musical. (YURI DE JESUS|SNN)

By HENRY HEIGHT
SNN Staff Writer
The Lakewood Drama Club's spring musical is right around the corner, and though the team is excitedly pushing forward, the path hasn't been without a few snares.
Originally, the club planned on putting on a rendition of the 1971 classic Grease, even going as far as conducting auditions and assigning roles to students who performed well. Though the club was excited to move forward into rehearsals, according to drama club president and the spring musical's director Cheryl Land, a number of issues quickly came to light.
"We really wanted Grease because it was popular, well-known, and easy to produce. But the licensing company required many extra steps for permission to perform it," Land said, referring to the license needed to use the name and script of a production. "Whereas with other musicals you could just apply and pay a small fee, every request for Grease had to pass through the writers' hands themselves, which would have made the process take months."
The issue was also one of cost, Land said, explaining how the Lakewood Drama Club's lack of funding forced them to reconsider.
"The cost was astronomical compared to what we would usually pay. I heard it cost $7,000 for another high school to get the rights. Since we have no real performing arts program, and virtually no district funding, all we have is the revenue from last year's show," she said. "We do not and never will have that kind of money."

Though disheartened - Land called the pivot akin to "putting down a sick dog" - the group nevertheless continued. After an internal poll, the members of the club decided on another musical: the 2007 hit Legally Blonde, which will cost the club only $1,500.
Members of the club were more than happy to go along with the change, the energy of the cast swiftly shifting towards making this year's spring musical the best it can be.
"I'm really excited for this play," sophomore Emma Ash said. "The songs are catchy as heck, and my character's really fun."
The roles for the play have already been cast. Land and her team of club officers picked from those who auditioned for the ill-fated production of Grease. The cast is made up of some of Lakewood's best actors, with sophomore Emma Ash portraying the main character Elle, senior Mounir Ziad as Emmett, freshman Maddie Kirsch as Paulette and senior Davon Miller as Callahan.
The student body of Lakewood has also been accepting of the change. "I'm honestly so excited," freshman Josie Pitzen said. "I love Legally Blonde, so this is just awesome."
The first showing of Legally Blonde will be in the Lakewood auditorium on April 17, with a reprise the next day. Both showings will be at 6:30 p.m., with a cost of $10 per ticket.