Return to Headlines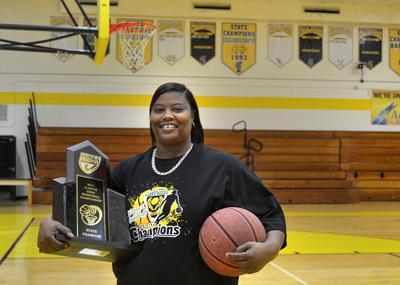 Coach Tunsil wins coach of the year - three times - after the girls basketball team snags the state championship title.
Above Photo: Lakewood High School girls basketball Coach Necole Tunsil is this year's coach of the year. (QUAN JONES/SNN)
By KAYLA GARCIA and CHRIS DEISTER
SNN Staff Writers
Lakewood High School girls' basketball coach Necole Tunsil has won not one award for coach of the year but three.
First, Pinellas County coaches came together during Spring Break and elected Tunsil coach of the year for girls' basketball.
Then the St. Petersburg Times selected Tunsil as their coach of the year based on her successful season.
A week after receiving the St. Petersburg Times award, Tunsil was honored by Class 4A FABC (Florida Association of Basketball Coaches) as its coach of the year – her third award.
Tunsil said she feels "blessed with a team of hardworking girls." She said she coaches because she loves the sport and the competition, not for the accolades - they're just a plus.
Senior Kayla Roberts said she is proud of her team and coach.
"It's a good thing since she led us to the state championships," Roberts said. "She's a really good coach."
Sophomore Tianah Alvarado, who won the Class 4A FABC award for player of the year, said Tunsil is a good coach who is "really into what she does. "
"Once she has got her mind set she goes 100 percent," Alvarado said.
Tunsil said she wished the award was for coaching staff of the year, because she thinks her staff deserves the recognition.
"The Coach of the Year award doesn't reflect all of the other coaching staff put in. I appreciate the award, but I'm much, much happier with the state championship," said Tunsil.