Return to Headlines
Football standout to play in Army All-American Bowl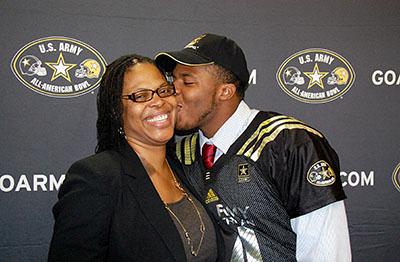 Above photo: Senior Isaiah Wynn kisses his mother, Beulah Johnson-Keels, during the U.S. Army All American Bowl ceremony on Nov. 1 at Lakewood. Wynn will be playing in the U.S. Army All American Bowl on Jan. 4, 2014, in San Antonio, Texas. The game will be broadcast live on NBC at 1 pm. (RACHELLE GADDY | SNN)
By NILAJA KING and ATIERA HOPKINS
SNN Staff Writers
Senior Isaiah Wynn, No. 77 on the Spartan football team, was presented with a U.S. Army All American jersey and hat at Lakewood on Friday (Nov. 1). Wynn will play in the U.S. Army All American Bowl on Jan. 4, 2014, in San Antonio, Texas. Wynn, who is on the Spartan's offensive line, is one of the top 90 players in the nation.
"I feel great. It's a big accomplishment," Wynn said.
Lakewood football coach Cory Moore said Wynn "exemplifies a lot of things we are trying to achieve at Lakewood. "
"He does everything the right way, definitely exemplifies what Lakewood stands for and is one good student in the classroom," he said.
Army Sgt. Inja Gordon, who attended the ceremony, said she was very proud of Wynn. "In the past years, we've had plenty of nominees. This year he set the rank. … He's a wonderful young man. He'll go very far in life," she said.
Not only were representatives from the Army there, the Soul of the South marching band, cheerleaders, principal Bob Vicari, assistant principals Ste'Phan Lane, Harriet Davis, Susan Alvaro and most of the football team were also in attendance to congratulate Wynn.
But most importantly his family got to celebrate with him.
"I think it's a very prestigious honor, and I'm proud of the opportunity he's been afforded," Wynn's mother, Beulah Wynn, said.
"I'm very proud of him because he's worked hard for it," Wynn's older brother, Aram Wynn, said.
Isaiah Wynn will attend University of Georgia after graduation on a football scholarship.
"All things are possible if you stay focused as a student athlete and never forget where you came from," Moore said.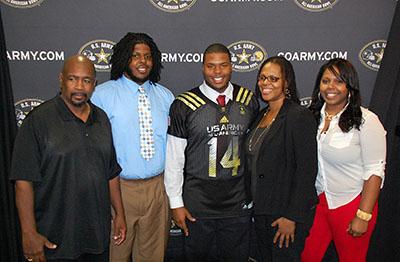 Senior Isaiah Wynn (center) stands with his stepfamily father Otis Keels (left to right), brother Aram Wynn, mother Beulah Wynn and sister Illenan Wynn at the US Army All American Bowl ceremony on Nov. 1. Wynn was presented with a jersey and hat during the ceremony.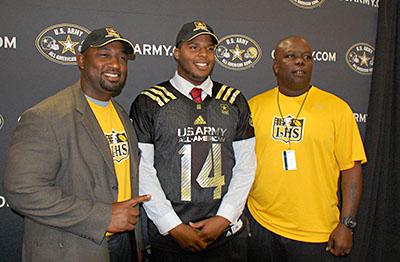 Football coach Cory Moore stands with senior Isaiah Wynn (center) and coach Roosevelt Kimbell during the US Army All American Bowl ceremony on Nov. 1.