Return to Headlines
Soccer season starts off strong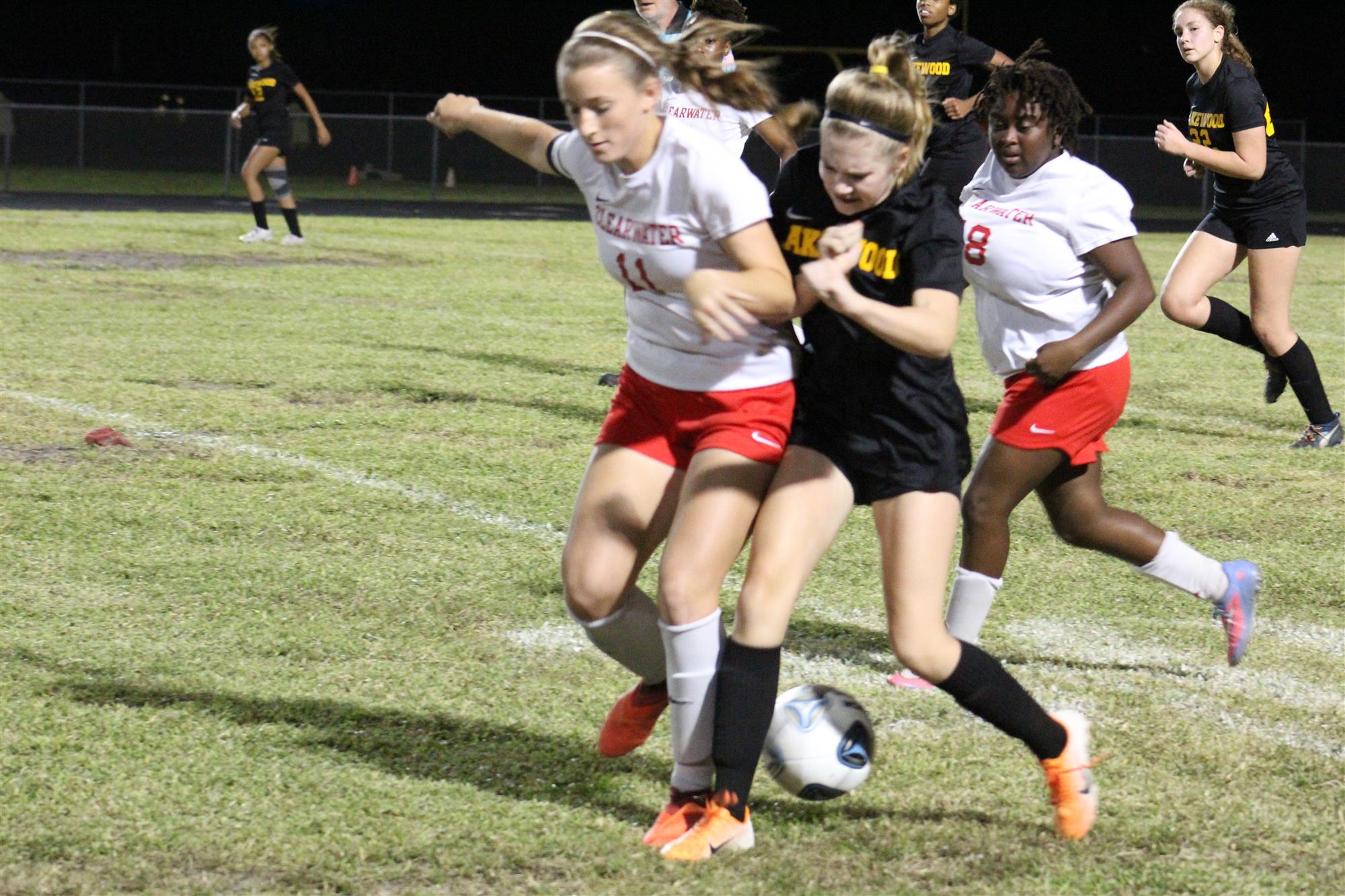 JAY SANDERS | SNN
BY LEAH BROADNAX
SNN Staff Writer
With a kick, dribble and pass, soccer is now in session at Lakewood High School.
Head coach Brandon Vaughan, who leads both the girl's and boys' soccer teams, said he is ready to start the season off - but with COVID-19 there will be some changes in the 2020-21 soccer year.
At this point, everyone knows the coronavirus requires social distancing, masks, clean hands. and staying hydrated. However, for soccer there's a little extra.
"(We are) disinfecting balls and cones, … no longer having practice pinnies, all in an effort to make sure we keep everyone as safe as possible," said Vaughan, who hopes that all the cleaning and safety protocols are the only thing that negatively affects the season.
This year each team has more than enough players: 17 on the boys' team and about 15 on the girls' team. There can be 11 players on the field at one time and a minimum of seven, Vaughan said.
The teams started the year off strong with some conditioning and team-bonding activities.
"Both teams have been spending time doing a weightlifting program that will pay off over the course of the year with fewer injuries," Vaughan said.
Players like freshman Jordan McIntosh, who brings three years of experience to the girls' team, and Kyle Conde, who was inspired to play by his brother, said they are excited for the new season.
They have a lot to look forward to this season with getting to know each other, playing toward districts, and having a lot more playing time with everyone getting a chance to have a break. This year you can except to see a change in the team.
McIntosh is a striker, and this is her first year playing for Lakewood. Before Lakewood she played soccer for Florida Celtic Soccer Club in Walsingham Park, Seminole. She was inspired to play by her older brother, and the thought of being on the team sounded fun to her.
"I'm looking forward to getting to know the girls on the team more, know how everyone plays and learning more about my position while getting more playing time," McIntosh said.
Since half the team is new it will take more time to get to know everyone, but they will get there to overcome the bigger challenges they may face like communication issues or respecting each other to make them play as a powerful team.
So far, the girls have a record of 1-3, and the boys' record is 4-1.
"For the girls, a lot of their games are exciting because I feel they have a chance to really see some great growth in the number of wins from the previous two seasons.," Vaughn said. "For the boys, the mindset is making sure that we get to host the game that we all are looking forward to on Feb. 9 when we will win a District Championship hopefully on our home field."
Both the boys and the girls play tonight (12/2) against Admiral Farragut. The boys' game is home while the girls are away.