Return to Headlines
Renovations lead to frustration
12/16/19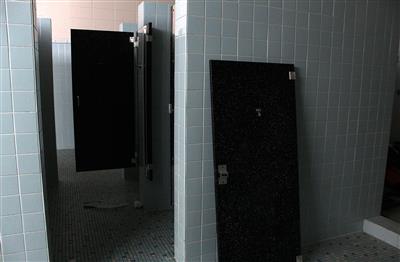 A broken stall door in the boys' locker room leans up against the wall. (ESSEX POTTS | SNN)
BY DEMETRIO MARTIN
SNN Staff Writer
The new and improved gym is up and running, but while some say it looks perfect, there are still some flaws.

"I'm happy to get the gym back up and running, but there are some problems," gym teacher Tracey Teartt said.

A hole in the floor on the northeast corner of the gym is covered by carpet. Paint is chipping off the Spartan logo at center court. Construction workers have identified some issues and have begun to fix them.

Gym teachers also don't have access to the sound system, which means gym teacher Chantella Moore is having to bring her own speaker. The new gym has about a dozen new speakers hanging from the ceiling, but the students have yet to hear anything come out of them. That's because the audio controls for the speakers are in a room that the gym teachers can't access.

Also, the gym teachers have yet to get keys for all the doors in the gym.

"We are gym teachers. We should have keys to the gym. Am I right?" Moore said.

Above the speakers in the gym are rectangular boards hanging to reduce some of the echoes, but some of those boards have been falling and that's a problem, Teartt said.

Although the students are happy to be back in the gym, they wish something had been done to improve the locker rooms.

"The gym looks good, but the students' bathroom and lockers are bad," junior Eric Killins said. "It's like they didn't fully do everything."

Gym teacher Cory Moore also says the locker rooms the students use everyday are not up to par.

"I wish we could get the locker room redone. The boys' stalls are too small, and one stall doesn't even have a door, so there's no privacy," Cory Moore said.

There are plans to put trophies in the lobby of the gym for people to see when they come to the basketball games, but the shelves are way too small to put the trophies in. So, gym teachers hope to get bigger shelves.

Lastly, the weight training room is so small, teachers say, you can barely fit a whole weight training class inside.

"I hope we could switch the wrestling room with the weight training room," Cory Moore said. "It's kind of small and hard to put all weight training students inside."

There are plans to go back over the gym, and there are plans to have a second phase of construction in other areas of the school, principal Erin Savage said. "We didn't go in the locker rooms unfortunately, but we will go back over it and fix all the little things. There is a phase two of construction in January eyeing other parts of the school, like classrooms, carpet and room floors," Savage said.