Return to Headlines
Girls basketball team starting off strong
12/16/19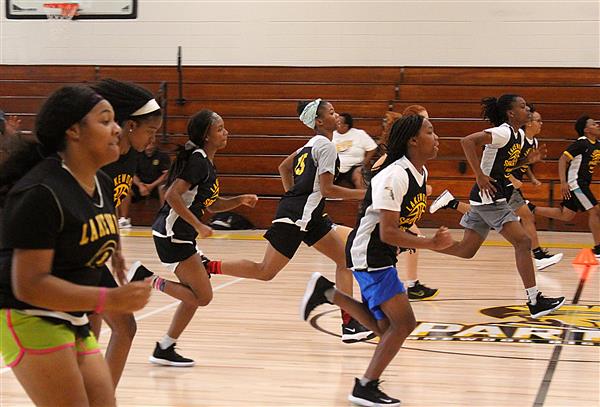 Above, Lakewood varsity girls' basketball team run a drill called a 5-30 in the gym on Oct. 29. Players run from one end of the gym to the other, five times in 30 seconds. "It helps us get warm to be able to run through the drills. If we don't run we'll play a tense game," sophomore Jonyeisha Thomas said. (JAMMISHA SMITH | SNN)
BY NEPHE ELLIS AND JAMMISHA
SMITH SNN Staff Writers
The Lakewood varsity girls' basketball team is kicking off its season with a lot of practice, dedication and hard work. Their goal is to go to states this year.
"You have a sense of accomplishment. Other teams and other schools automatically hate you because you have the name Lakewood on your jersey," sophomore Reilly Webb said.
Head coach Necole Tunsil said the team's strengths are that they are a hard-working team that is not afraid to fail.
"They know that's going to make them better and prepare them for their games," she said. Their weakness right now is a lack of maturity. "We are very young and only have two juniors and two seniors out of 11 players, and sometimes I refer to ourselves as 'young and dumb' because we don't have the experience probably that other teams have," Tunsil said.
The girls said they think their season will be successful, and they are excited because as a team they have a good bond.
"I knew they had a good basketball program, and I wanted to be in a place I could go and get a scholarship and get better at my craft," junior Nilah Coleman said. "I love my team."
For some of the girls, basketball is just something for them to do. But sometimes they are living up to legacies or passing down traditions from their parent.
"My teammates are humble, and they teach me things and I have a good learning experience with coach Necole," said freshman Gabriella Goodleigh, whose stepfather played basketball. Goodleigh said the team has a lot of potential to go to states. So far, the girls are 3-2.
"The preseason is good," said Goodleigh, a freshmen on the team. "(But) sometimes it's overwhelming because Coach Necole yells at me … but at the end of the day she's trying to make me better."