Return to Headlines
01/17/2020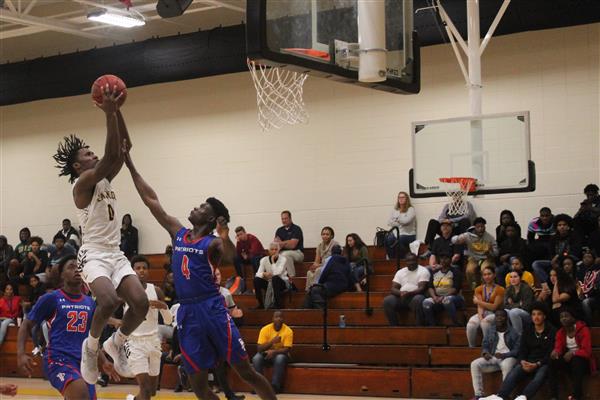 Senior Marques Tampa shoots the ball on Jan. 7 during a game
against Pinellas Park. (Photo by JAMISHA SMITH)
By DEMETRIO MARTIN
SNN Staff Writer
The boys' varsity basketball team is off to a great start. The team, currently on an 11-game winning streak, is 13-2 and looks to do better than last year.
"We have some unfinished business," senior center Jamille Reynolds said.
After losing against Stranahan High School 63-54, in last year's state championship, the Spartans think they can make a return and this time come back home with a win.
"I feel if we keep playing at a high level and keep playing together, we can go back to states and this time win," senior point guard Marques Tampa said.
The team's season is still only mid-way, but the Spartans only have two losses on their record. With that being said, the Spartans still feel there is room for improvement.
"We're doing really good, but I feel if we just limit turnovers and just keep playing together, we will be really special," junior point guard Anthony Perkins said.
When ask what has led to the team's success, the answer was simply "practice."
"These boys practice hard and well, and when we do that as you can see, it transfers over to the game," varsity basketball head coach Anthony Lawrence said.
The Spartans have 10 games left and will look to finish strong and make a run again for the state championship. During the 15 games that the team has already played, they have logged 77 dunks.
"We play good defense, then we get out on fast breaks and dunk. We're also very bouncy, and I feel a lot of teams can't jump with us," Tampa said.
The team's next game is tonight at 7:45 p.m. St. Petersburg High School. St. Pete has an 11-5 record.
"Thirteen and two is only the beginning. We should continue to win and make a return to states and like I said before we have unfinished business," Reynolds said.