Return to Headlines
Two wrestlers represent Lakewood at states
3/11/20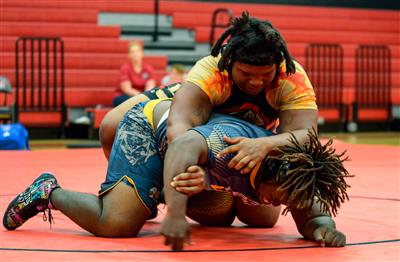 Senior An'darius Wilson attempts to pin an opponent at the Kissimmee wrestling state finals. Wilson weighs 260 pounds, but wrestles in the 285-weight class. (SPECIAL TO SNN)
SNN Staff Writers
Two of the wrestling team's members - senior An'darius Wilson and sophomore Pharee Reed - went to state finals this past weekend in Kissimmee. Though both wrestlers gave it their all, they did not reach the podium this time.
Wilson has wrestled for three years, and this was his first time going to state. He weighs 260 pounds, but wrestles in the 285-weight class.
"I did good, but I had some ups and downs. Some I did bad, some I did good," he said Tuesday. "It was a good experience."
Wilson said he was never pinned but lost because of his score. He finished the season with a record of 14 wins and four losses, while Reed finished the season with 18 wins and four losses.
Wrestlers from more than 200 teams attended the state finals, including Admiral Farragut, Dunedin and Pinellas Park.
The Spartan wrestling team had a successful season overall. Lakewood crowned four district champions, including Wilson, Reed, senior Ryan Turri and junior Jaquez McCray. In addition, the team sent seven wrestlers to the regional tournament.
Before states, the team won third place at district duals. The teams included were Admiral Farragut, Bay Shore, Gibbs and Northside Christian. The team also had a meet at Bradenton Christian where senior Ryan Turri went undefeated, sophomore Nate Sanders won his first match by pin, and sophomore Julian Gonzalez won a match by mercy rule, because he was beating his opponent 15-0.
"It felt good to go undefeated and just dominate and beat everyone that stepped on the mat with me," Turri said.
Head wrestling coach Jacob Kowalczyk said he was especially excited this season because the team had lots of young talent.
"The team is great. We are better than last year, and the future is bright. … We have many first-year wrestlers, who are just learning the game and will come back even stronger," he said.
An added factor that may have helped the team grow this year is the new wrestling practice facility, part of the recent renovation of the gym, the coach.
"The new facility gives us more athletes than last year. We had four. Now we have 12. It also helps us get better, stronger, bigger and better fundamentally," Kowalczyk said.