Return to Headlines
Lakewood coach named Coach of the Year
3/13/20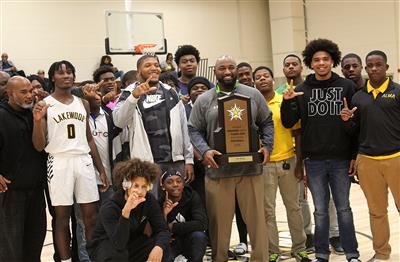 Coach Cory Moore, surrounded by his football players, accepts his Coach of the Year award during halftime at a boys varsity basketball game on Jan. 12. (JAMMISHA SMITH| SNN)
BY BRANDEN COOPER
SNN Staff Writer
This year head football coach Cory Moore guided the Lakewood Spartans football team to a nearly undefeated season, ending with a 14-1 record.
For his efforts, he was named Tampa Bay Area Coach of the Year for 2019 by the Tampa Bay Times.
Even with such accolades, Moore, a 1994 Lakewood graduate, remains humble.
"You can't forget where you come from and you remember the times you used to have issues and problems and have obstacles," said Moore, who is also a physical education teacher at Lakewood.
Moore said like some of his own students, he faced obstacles while growing up.
"I remember when I was in high school, I used to stutter a lot. When I was in middle school, I used to get bullied so you try to find kids that remind you of yourself and you want to make them better," said Moore.
After high school, Moore went to Bethune Cookman College on a football scholarship and majored in mass communication and broadcast technology.
After graduating college, Moore wanted to help students in the community succeed. He came back to teach at Lakewood in 2008 and has been coaching since then.
"I wanted to come back to Lakewood because I wanted to come back and help the young men and women in our community, I feel it was important that not only was I able to be successful at graduating, but also what was most important for me to come back and helping someone else," Moore said.
He explained one of his strategies that he uses to give feedback to athletes and students, which he calls "The Oreo method." Moore starts with something positive, then corrects what needs to be corrected and finally finishes up with something positive.
Freshman Ashton Anderson, one of Moore's students, calls Moore a role model. "Coach Moore has taught me how not to give up, no matter how painful it gets," Anderson said. "No matter where he is, he'll tell you if you're doing something wrong or just trying to keep you on the right track."
Anderson said he thinks Moore was chosen as Coach of the Year because he knows what he is doing.
"He's been coaching for quite a while and he is one of the best coaches out here," he said.
Freshman Samarion Lang is another player on the football team who thinks of Coach Moore as a mentor.
"He helps me out with things I don't know how to do and teaches things I've never learned before," Lang said. "He always does a little dance before every practice to hype up the team." Moore said he doesn't plan to stop his success and will continue to improve.
"My plan right now is to be the best that I can right now at Lakewood and who knows what the future holds," said Moore.