Return to Headlines
Exhibit showcases student work
11/2/16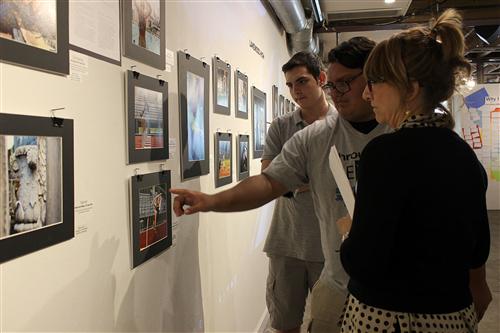 Junior Dallas Davis, left, and senior Tony Rengifo, middle, talk to Journeys in Journalism advisory board member Marian Tagliarino at the Through Our Eyes: Midtown and Beyond photo exhibit on Oct. 21. Davis and Rengifo were student docents at the exhibit. "I liked the way it was laid out and it seems like people were really interested and intrigued," Davis said.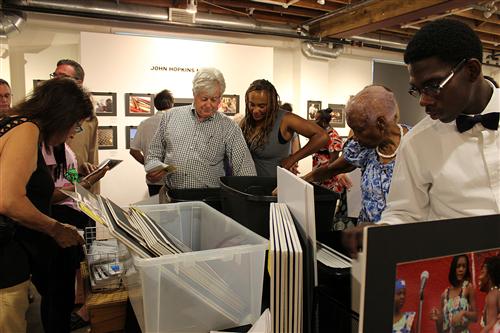 A
crowd at the Through our Eyes exhibit gathers around printed photos for sale at the Studio@620 on Oct. 21.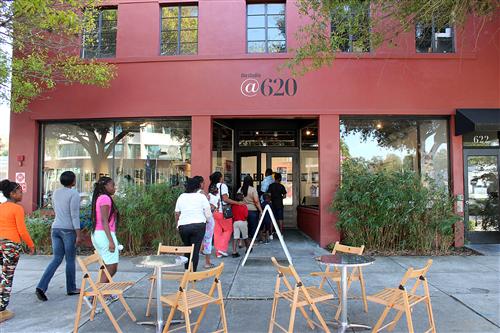 Students and their families enter the studio on opening night.
(Photos by

JA'LISSA LYONS | SNN

)
BY KEYONT'E HOWARD
SNN Staff Writer
Through Our Eyes: Midtown and Beyond, an exhibit that showcases some of the best stories and photos from the journalism programs at Lakewood High, John Hopkins Middle and Melrose Elementary schools, opened Oct. 22 at the Studio@620 and ran through Nov. 1.
"It's a chance for the students to see their work in a public, professional gallery and see that members of the community enjoy the students' work," program coordinator Gretchen Letterman said.
The exhibit, the second Through Our Eyes exhibit since the death of founding program coordinator Cynda Mort in 2015, included 100 photos from the three programs as well as excerpts of stories from the past year.
A highlight of the event was that a guest brought her Madagascar ring-tailed lemur to the studio during the event.
"A lemur came to the exhibit; that's never happened before. She and her owner were the subject of a photo in the gallery taken at a street festival," Letterman said.
Also displayed were letters the students wrote to be sent to the next president addressing matters that were important to them.
"The assignment was to let the next occupier of the Oval Office know what students are concerned about. Not feeling protected.
Gun violence. Hunger. Police brutality. We're sending the letters to the White House when the exhibit is over," Letterman said.