Return to Headlines
More flesh for warmer weather
Fashion tips for a warmer Florida
By SHANTE' SHEDRICK
SNN Staff Writer
As 2011 continues to roll on, I'll continue to update you fashionistas with new information
and inspiration. I promise the new buzz will have you wishing the brutal winter days will just get on with it already as spring 2011 is sure to bring forward simplicity. A brighter day means less clothing and rising hems. But for school purposes, here are ways to achieve the spring 2011 look without being forced to wear scrubs over your outfit.
CROPPED TOPS
Whether it's a do-it-yourself design or a store-bought look, we teenage girls are looking for our own cut and cool number.
Yes, cropped tops your mom used to wear are back in a big way. Crop correctly
by pairing the tops with shorts or let it hang over a fitted high-wasted skirt or pair of skinnies. Really, it all comes down to keeping the bottoms fitted when the top is loose and wearing your hot '80s inspired outfit with an extra dose of 2011 confidence. If you're not there yet on the confidence scale and for school purposes, turn to cropped yet covered.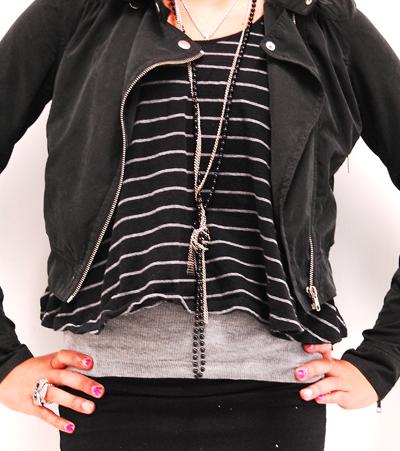 CROPPED YET COVERED
This is a great option for those who would really rather not or cannot show off their stomach but still want a similar look. It's loose throughout slightly cropped in the front and a bit longer in back. It gives you the cropped feel without the complete crop.
THE BODYCON TREND
Warning: This trend may be too short and too tight for the self-conscious. From skin-tight pencil skirts and minis to figure revealing dresses, bodycon pieces have girls showing off every aspect of their shape. Both bodycon skirts and dresses are functional and versatile must haves. The stretching cotton ensembles are one of the most flattering pieces ever and like skinny jeans I can't imagine it going out of style. It turns the girl with the least hour-glass shape into a curvaceous beauty. If you choose to partake in the trend, make it daytime/school appropriate. Remember we come to school to get an education, not to show off our latest club wear. Stay clear of the heels and consider dressing your bodycon skirt or dress down with flats and a cardigan.