CATCOM no longer producing Fox show
Monday, 05 November 2012 09:22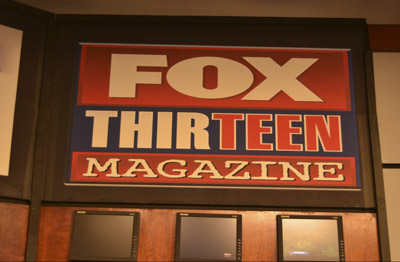 CATCOM is no longer able to be seen on Fox 13 Saturday mornings.
By SYMONE BROWN
SNN Staff Writer
After rolling out of bed on Saturday morning, some Lakewood students flip through the television channels. With remote in hand, pictures of cartoon characters and news anchors flash across the screen. They search for a familiar face of a fellow Spartan on Fox 13. But now, watching the CATCOM-produced news show, Fox ThirTEEN Magazine, can no longer be a part of their morning routine.
Fox ThirTEEN Magazine debuted more than seven years ago on the CBS-affiliated local television station WTSP. Since then, Fox ThirTEEN Magazine has switched to local television station WTVT, also known as Fox 13. The award-winning show catered to the teen audience by delivering news features, like covering the Gasparilla Kid's Parade and the Comic-Con convention. This took place 52 weeks out of the year.
Multimedia and CATCOM teacher C. David Schneider said the show was beneficial to the CATCOM students.
"The weekly television program provided our students with a professional real-world outlet for their productions," said Schneider. "It also benefited the community, organizations and individuals we featured."
Some former crew members said they are disappointed that the show was taken off the air. Senior Samantha Roberts, former Fox ThirTEEN Magazine and CATCOM anchor, says she's saddened by it.
"I was crushed," Roberts said. "It was so cool to have your friends be like 'Hey, I saw you on TV.'"
Roberts, who is no longer in CATCOM, also said that it was "an awesome opportunity to be the voice for your school."
Others view CATCOM no longer doing Fox ThirTEEN Magazine in a positive light.
CAT assistant principal Peter Oberg said that it gives CATCOM a chance to explore other opportunities. "I think it was good practical work experience … having weekly deadlines. But because we were on those deadlines, it kept us from taking other opportunities," Oberg said.
But the discontinuation of Fox ThirTEEN Magazine doesn't stop CATCOM from trucking out productions. The CATCOM studio is still producing its daily school morning show Fast Forward and other multimedia projects, including a promotional video for the annual Art Arbor fundraiser.
And this isn't the end for future extracurricular productions for CATCOM. It is currently in talks with other broadcast partners.
"When one door closes, others open," Schneider said. "This is an opportunity to start something new, fresh and contemporary."