Changes smooth out this year's FSA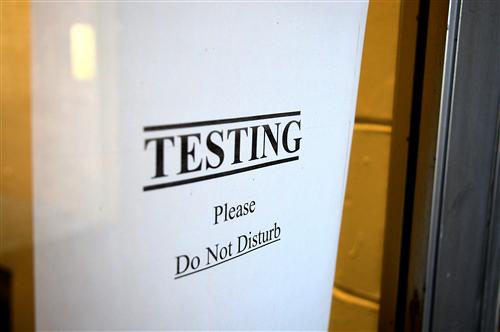 (DE'QONTON DAVIS | SNN)
By DEREK SCOTT and WILLIE SMITH
SNN Staff Writers
The Florida Standardized Assessment (FSA) is a test that every student in Florida must take. It was brand new last year, replacing the Florida Comprehensive Assessment Test (FCAT). One of the big changes was that the test was done on a computer, rather than on paper.
Unfortunately, testing did not go so smoothly. Some test takers were barred from even logging into the test. For others, their computers were constantly shutting down or the test wouldn't allow students to even finish once the test taker exited the screen.
Year two of the FSA began right before Spring Break, and the news is much better. The FSA and PearsonAccessNext, the program that runs the test, have had a bit of tweaking since the old version was in place and are running smoothly, testing administrator Leslie Roles said.
"FSA is actually going very well," Roles said. "There have been changes to the computer labs, and the amount of students we can fit into testing at one time. So far, this is a better testing year."
About 200 students can now be tested at once in three classrooms that have been set up as testing labs, and they had no problems logging in. The state requires that at least 95 percent of the students attending the school be tested. Lakewood exceeded that number during the first testing round – the writing test - before Spring Break.
"We tested all but (1) ninth grader, all but (4) 10th graders, all but (10) 11th graders for retakes," principal Erin Savage said.
Although the test went better than last year, there still were some minor glitches and test proctors were not coming down to assist testers here and there. Also, the lights were shutting off due to no movement being detected in the room.
"That's isn't a problem really since testers wanted the lights to stay off anyway," Roles said.
Even with the minor issues and problems, it still didn't affect the actual testing going on, she said.
"This year we have done a wonderful job getting the huge majority of our kids tested," Roles said. "Our percentage of completion is very high at the moment, though we have much more testing left to accomplish. I very much anticipate continued success in this category."
Freshman Tyler Betz said before he took the test, it was loud and hot in the room, but once it started the kids got quiet and the air conditioning kicked in.
"It was very easy for me," he said. "I already knew the materials."
Near the end, however, as students began finishing, they got louder because they were not allowed to leave.
"It was boring. There was nothing to do afterwards," he said.
***
Here is the testing schedule for the remainder of the year:
· FSA reading started today and runs until April 26
· FSA Algebra 2 from April 27-29
· FSA geometry from April 29-May 4
· FSA Algebra 1 from May 5-11
· U.S. History EOC from May 12-13
· Biology EOC on May 16 and 17
· Makeups for U.S History and Biology will be May 18-20