Lakewood students receive bike safety equipment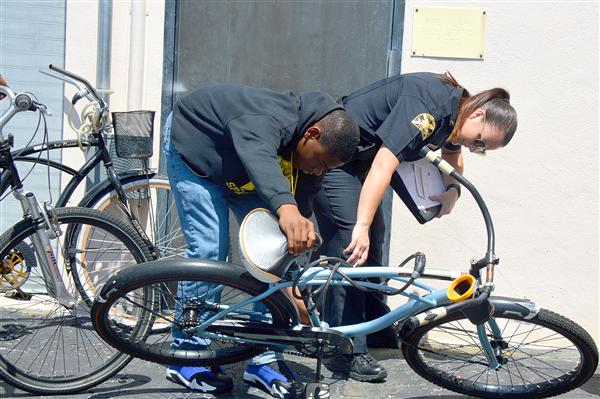 Freshman Vasques Fredrick registers his bike with Police Officer Maureen Rulison of the St. Pete Police Department on April 6. The police department and city officials came to Lakewood High to help students register their bikes and supply them with helmets, lights and reflectors. (JAYLA BRISCOE | SNN)
By ALEXIS HOPTON
SNN Staff Writer
Lakewood High School students who ride their bicycles to and from school received strobe lights and helmets and were able to get their bikes registered on April 6.
Public education officials from the St. Petersburg Police Department and Fire Department as well as city traffic officials contacted School Resource Officer Lerric Boyd and provided the items for the students.
The give-away came about because the Florida Department of Transportation found 1,081 lights that were sitting in a closet, so the agency decided to give them to schools and place them on students' bike.
A group called Safe Route provided the free helmets, and Officer Maureen Rulison from the St. Petersburg Police Department registered students bikes.
"It's exciting. I love to see the schools aren't keeping them in the office. I love that the officers are working with the kids," said Casey Morse, who works with the Pinellas County traffic department.
In Florida there are two bike and walking fatalities a week. In 2013, 4,735 pedestrians and 743 bicyclists were killed in crashes with motor vehicles, according to the National Highway Traffic Safety Administration.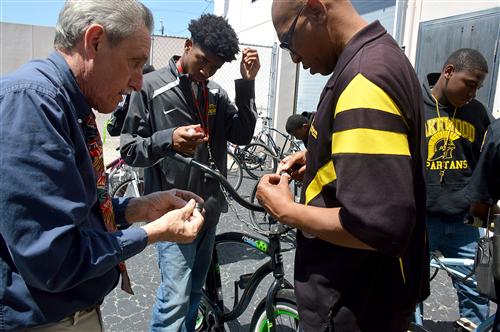 Assistant principal Peter Oberg and hall monitor John Darby help students put lights on the front of their bicycles on April 6. The police department and city officials came to Lakewood to help students with bike safety. (JAYLA BRISCOE | SNN)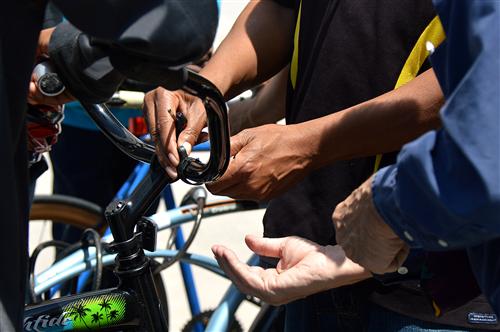 Hall monitor John Darby assembles a light on the front of a students bike on April 6. The St. Pete Police Department donated helmets, lights and reflectors to Lakewood students. (JAYLA BRISCOE | SNN)