Cancer survivors and fundraisers come together to walk for the cure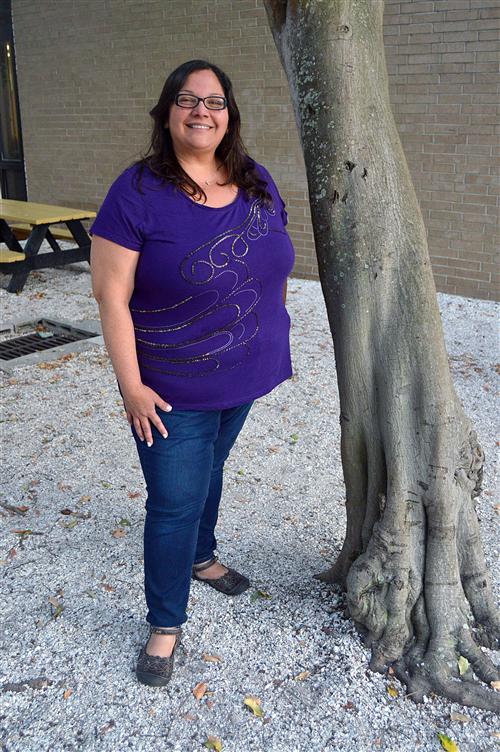 Spanish teacher Lydia Lopez will walk tonight at the Relay for Life event at Lakewood High School. She is a cancer survivor. (BRYANNA BANI | SNN)
BRYANNA BANI
SNN Staff Writer
Lakewood High School will be the site for Relay for Life on April 22, from 6 p.m.-midnight. Twenty-two teams will be participating in the event, including Spanish teacher Linda Santiago's team called Scholars for a Cure.
Relay for Life is an event that the American Cancer Society organizes each year all across the United States. Anyone can participate in the event, which celebrates the lives of people who have battled cancer, remembers loved ones lost, and fights back against the disease by raising money for the cancer organization.
A survivor lap for those who are in remission and for those who are cancer free will also take place at the event. Spanish teacher Lydia Lopez, who has been in remission since 2008, will be participating in the survivor lap. SNN interviewed Lopez to find out about her battle with cancer.
Q. What kind of cancer did you have?
A. Leukemia
Q. How long have you been in remission?
A. Right now, 8 years without treatment because it's stable
Q. How'd you find out you had it? And when?
A. July 2003. Really bad stomach ache and vomited blood so at the hospital, they did an ultrasound, found a mass on my liver and it came back positive for non-Hodgkin's Lymphoma. Then in less than a month, they found it in my bone marrow. (LGL) in T and B cell.
Q. Why are you participating in relay for life? What will you be doing?
A. I was asked by Ms. Santiago to be in the survivor victory lap. Just going to be walking and raising money. Never done it before, this is my first time.
Q. Did you get people to sponsor you?
A. Not right now no
Q. Tell me about you battle with cancer.
A. The worst part when they told me I had cancer it was that I couldn't have kids. That my life is the most important. Another thing was how to tell my dad I have cancer. My ex-husband and family were very supportive. I cut my hair very short and my students asked why and I told them. My life style changed. I couldn't go upstairs and I was working while doing chemo and getting my master's degree.
Q. Did you have to take time off when you were battling cancer?
A. I had to take 4 months off because I was retaining too much water from the chemo so I couldn't walk or do anything.
Q. Talk to me about your school.
A. They gave me all the work to do at home and I sent everything via e-mail. My second master's degree is in special ed. I had a 3.8 gpa so I was on the Deens list while going through chemo.
Q. How did you find out you were cancer free? How did you feel?
A. They said I've been stable since 2008. No treatments, just follow ups. I felt blessed and fabulous.